France Loses AAA Debt Rating After Moody's Downgrade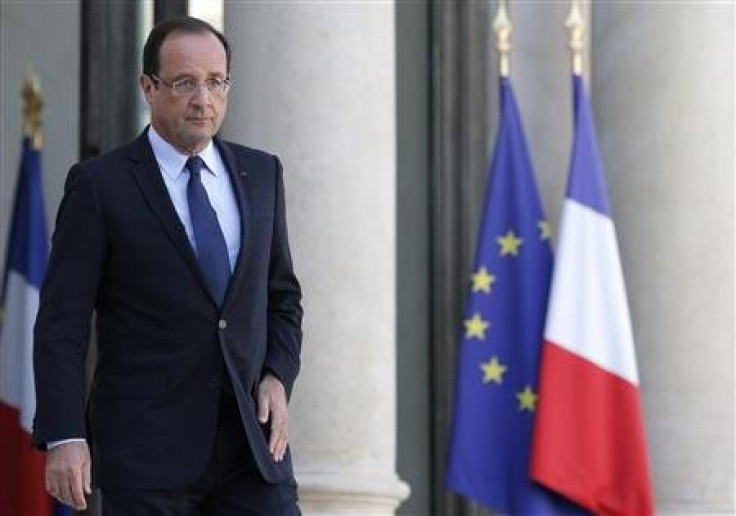 France became the latest major global economy to lose its triple-A debt rating after a one-notch downgrade to Aa1 by Moody's Investors Service late Monday.
The Eurozone's second-largest economy, which surprised investors last week by narrowly avoiding recession in the third quarter with a 0.2 percent advance in GDP, has had its top debt rating under review by Moody's since February of this year. Earlier this summer, Moody's also announced a review of the top debt ratings of Eurozone partners Germany and the Netherlands and said it would assess France's sovereign debt rating and its negative outlook.
"The first driver underlying Moody's one-notch downgrade of France's sovereign rating is the risk to economic growth, and therefore to the government's finances, posed by the country's persistent structural economic challenges," the agency said in a statement. "These include the rigidities in labour and services markets, and low levels of innovation, which continue to drive France's gradual but sustained loss of competitiveness and the gradual erosion of its export-oriented industrial base."
France's top debt grade was lowered by Standard & Poor's in January of this year, although it still holds the top AAA assessment from Fitch, which reiterated its top rating after the election of Socialist President Francois Hollande in June.
"The new President faces the same challenges as his predecessor: strengthening fiscal credibility; boosting France's medium-term growth potential; and dealing with the Eurozone crisis." Fitch said at the time.
The Moody's decision comes just days after a controversial report in The Economist suggested France's sputtering economy was the "Time Bomb" at the heart of Europe. France's political leaders, including Prime Minister Jean-Marc Ayrault, dismissed the series of articles as nothing more than an attempt to "sell more copies" of the magazine.
The issue of France's competitiveness has been a troubling one for the new President and his cabinet. In an effort to launch a series of reforms aimed at loosening the country's rigid labour markets and enticing innovation and business investment, the government hired the former head of EADS, Louis Gallois, to commission a series of recommendations.
His proposals include trimming welfare contributions to the state by around €30bn (around 1.5 percent of GDP) in an effort to jump-start French industry. The government followed-up with €20bn in tax rebates (equal to around 1 percent of GDP and financed by a rise in VAT and some government spending cuts) to promote investment and employment.
"Moody's recognises that the government recently announced measures intended to address some of these structural challenges. However, those measures alone are unlikely to be sufficiently far-reaching to restore competitiveness, and Moody's notes that the track record of successive French governments in effecting such measures over the past two decades has been poor."
French Finance Minister Pierre Moscovici told the AFP the Moody's decision was an "indictment of past management," that would encourage the country to "quickly put into effect" reforms that have already been announced.
© Copyright IBTimes 2023. All rights reserved.