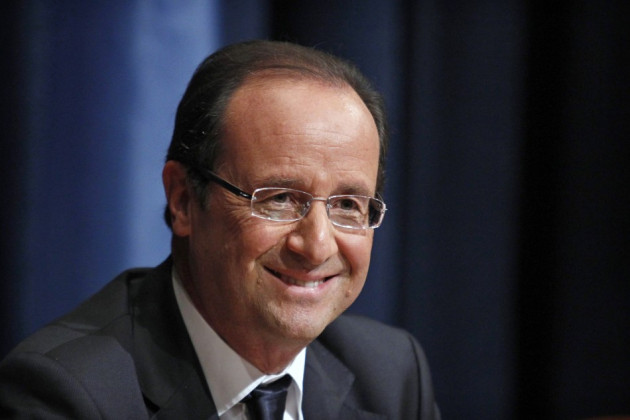 France's president unveiled his first budget statement to parliament Friday as the newly-elected Socialist leader tries to gain support for his economic plans among an increasing sceptical population.
Francois Hollande set out terms of the first Socialist government budget in more than a decade just days after the jobless rate in France has surged past a 13-year high and growth in Europe's second-largest economy has stalled for more than a year. Hollande detailed around €30bn in tax increases and austerity measures as he attempts to steer France closer to its own goal of a budget deficit that's no more than 3 percent of GDP next year and as low as 1.3 percent in 2015.
Public spending will remain stable at 56.3 percent of GDP next year while the nation's overall debt to GDP ratio will rise to 91.3 percent, the government said Friday. France's Tresor will issue around €170bn in bonds on behalf of the government next year, down from €170bn in 2012. Hollande's budget will raise around €2bn in additional revenue from what is being called a progressive taxatation scheme on bond and dividend income and a further €4bn from by a reduction in the rate of corporate tax exemptions on interest payments.
Previous expectations for tax increases that included a planned 75 percent levy on those earning more than €1m each year and further measures that would hit the high income households to the tune of around €10bn were confirmed. The controversial "millionaire's tax" will raise around €530m next year, the government said. The overall €30bn in identified savings will be rougly split between French households, corporate tax increases and the elimination of tax breaks and accelerated government savings plans.
France's stubbornly high unemployment rate of 10 percent could pose the biggest challenge to Hollande, whose popularity has slipped markedly since he was swept into office four months ago on a wave of frustration with the "austerity-first" political strategy (both at home and abroad) of Nicolas Sarzoky.
The number of jobless in France rose past 3 million for the first time since 1999, figures released this week have shown.
"President Hollande staked his political reputation by announcing that the government will halt the unemployment trend by the end of 2013," wrote Societe Generale economist Michel Martinez. "Low GDP growth is going to limit job creation and we think that unemployment will carry on increasing until the end of 2014."
A recent Ifop poll indicated Hollande's popularity rating has fallen nearly 10 percentage points in the last month - from 54 percent to 43 percent - as the economy has failed to show signs of recovery and the employment situation beings to look increasingly bleak.
The budget is said to be based on an assumption of modest growth for the French economy next year, although many analysts remain unconvinced the 0.8 percent baseline will be achievable.
Barclays expects GDP figures for the second quarter of this year will be marked down to -0.1 percent for a "unchanged" reading that was first reported. The bank sees third quarter GDP to contract between -0.5 percent and -0.1 percent. It's forecasting a top rate of growth for next year at 0.5 percent.
The domestic political risk Hollande faces seems to run a distant second to his desire to maintain fiscal credibility with his international lenders. France's triple-A debt rating was cut one notch by Standard & Poor's on 13 January, sparking an intense debate over the probity and responsibility of sovereign debt assessments.
Since the downgrade, however, investors have shown a marked appetite for French debt, helping to lower benchmark 10-year bond yields from just over 3 percent at the time of the S&P decision to an all-time low of 2 percent earlier this summer, making the paper the best performer in the Eurozone so far this year.
"This budget is about struggle, about reconstruction," Hollande's prime minister, Jean-Marc Ayrault told French television this week. "If we abandon the deficit target our interest rates will rise immediately."