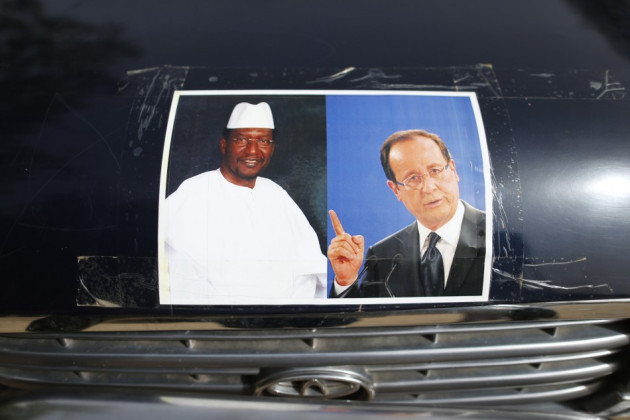 French President Francois Hollande is visiting Mali amid allegations of human rights violations by Malian troops.
Hollande and his foreign and defence ministers are on their way to meet interim Malian President Dioncounda Traore to mark the French-led offensive against the Islamist rebels in the landlocked West African nation.
"I am going to Mali to express to our soldiers all our support, encouragement and pride. I'm also going to ensure that African forces come and join us as quickly as possible and to tell them we need them for this international force," said Hollande ahead of his visit.
Hollande will meet his counterpart in the capital Bamako and is also expected to visit the historic town of Timbuktu, which was recently recaptured by the French-led forces.
Hollande is keen on quick transfer of the operation to African troops once the 8,000-strong Ecowas forces are deployed.
His trip has also come at a time when the French troops are intensifying the ground offensive against the al-Qaida-linked Islamists in the second phase of the operation.
Hollande's visit is likely to be eclipsed by rights allegations made by Amnesty International and Human Rights Watch.
The UN has expressed serious concern over the allegations against the Malian troops. The troops have been accused of carrying out summary executions of civilians and ethnic Tuaregs who are associated with the rebels.
"I call on the Malian army to discharge its responsibility to protect all populations, irrespective of their race or ethnicity. I am deeply disturbed by reports of violations committed by the army, and by reports that the armed forces have been recruiting and arming proxy militia groups to instigate attacks against particular ethnic and national groups in northern Mali," said UN anti-genocide envoy and special adviser to the secretary general, Adama Dieng.
The rights groups, citing witness reports, accused both Malian and French troops in failing to take "precautions" to avoid killing "civilian targets".
While the Malian army has denied any wrongdoing, the government has warned against such targeted killings.
Defending the French operation which began on 11 January, foreign ministry spokesperson Philippe Lalliot said: "Everything is done in the planning to avoid collateral damage on the civilian population."