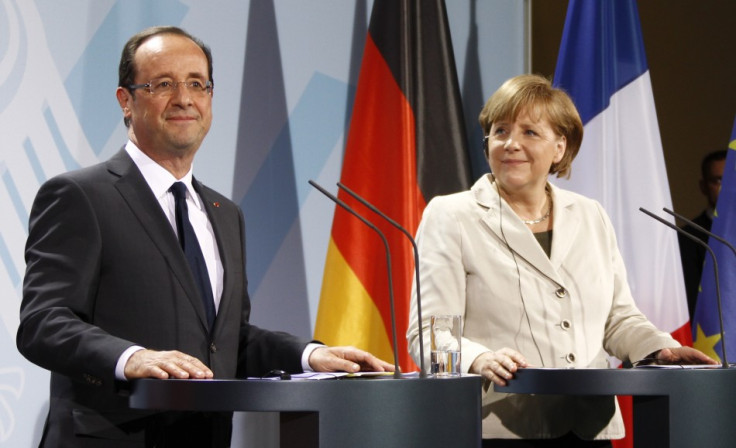 France's new President Francois Hollande and Germany's Angela Merkel promised to work together and adopt strategies to boost growth and solve the economic crisis in the recession-hit European Union.
The two leaders met in Berlin on Tuesday, hours after Hollande was sworn in as the first Socialist president of France in 17 years.
Hollande arrived an hour late to meet the conservative Merkel as his plane was hit by lighting en route to the German capital. He had to return to Paris to change planes following the incident.
The meeting was closely monitored in the midst of fears of a euro exit for Greece, as the country's major political parties failed to form a coalition government even after a second round of meeting on Tuesday. Greece is now set for fresh elections in June, with the left-wing, anti-austerity Syrzia party set to form a majority.

The two leaders tried to play down their differences during a joint press conference at the Chancellery in the German capital.
Hollande was critical of the German chancellor during his election campaign regarding her tough stance on bringing severe austerity measures across the euro zone nations.
The two leaders talked about bringing back growth in the region and pursuing different ideas to achieve new dimensions of growth.
"I said it during my election campaign, and I say it again now as president that I want to renegotiate what has been agreed to include a growth dimension," Hollande told a joint press conference.
"Growth has to feed through to the people. And that's why I'm happy that we'll discuss different ideas on how to achieve growth," said Merkel.
On Greece's Euro Exit
Both leaders said that they wanted to keep Greece in the euro zone and did not appear to have favoured the idea of Greece going back to the drachma.
Greece is in the fifth year of recession with an unemployment rate of 22 percent.
Hollande and Merkel said they were ready to explore ways to support Athens to bring Greece back to the growth path. The two leaders would be meeting in Brussels on May 23 to discuss the debt crisis.
"Like Mrs Merkel, I want Greece to remain in the euro zone," said Hollande.
Meanwhile, after a meeting with the European finance ministers in Brussels, the German Finance Minister Wolfgang Schaeuble opined that Greece had to agree to the terms of the EU/IMF bailout.
"If Greece wants to stay in the euro, then they have to accept the conditions. Otherwise it isn't possible. No responsible candidate can hide that from the electorate," Schaeuble told the reporters.
Meanwhile, the IMF chief told France24 television that the Fund has "to be technically prepared for anything."
Fears of Greece's expulsion from the 13 -year-old currency block has sent the euro to a four-month low.