The young star of Nicolas Sarkozy's centre-right Union for a Popular Movement (UMP) party, a 27-year-old of Cameroonian descent who campaigned against immigration in France, has been embroiled in controversy after it was revealed he is an irregular immigrant.
Stephane Tiki self-suspended from his role as the head of the UMP youth wing, Jeunes UMP, after it emerged that he does not have French citizenship or a valid residence permit.
The allegations reported by Le Canard Enchaine, a mixed satirical and investigative weekly that often unveils Paris political elite's dirty laundry, caused great embarrassment to Sarkozy's ranks.
Tiki is an exponent of the so-called droite forte group to the right of the party, which advocates for tougher immigration policies courting voters who have defected to the nationalistic rhetoric of Marine Le Pen's Front National (FN) in recent years.
After his irregular situation was reported, many media picked up a 2012 tweet in which the youthful politician backed a petition against granting foreigners the right to vote.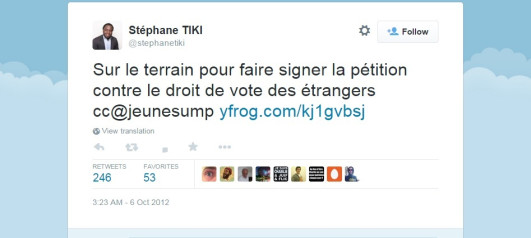 His appointment as president of Jeunes UMP in December was said to be strongly backed by Sarkozy, as it perfectly embodied the party's coveted middle ground between President François Hollande's Socialists and FN far-right-wingers.
The decision appears to have backfired.
Tiki's Socialist counterpart, Laura Slimani, took the mickey out of him in a tweet:
"Tell @stephanetiki he can count on the Jeunes Socialists to fight for his regularisation #RegulariseStephaneTiki," she wrote.
UMP lawmaker and former government minister Thierry Mariani accused his party's leadership of "great amateurishness".
"I hope it's a bad joke," he told Le Figaro, commenting on the reasons of Tiki's suspension. "I don't understand how he is not French. It's the least one can do to be the head of Jeunes UMP."
Tiki defended himself on Facebook, accusing media reports of being inaccurate and misleading and boasting about his ties to the Gallic country, without however denying his irregular status.
"My sister is French, my parents were married in France by Jacques Chirac, I did my studies in France," he wrote, adding that his naturalisation application "is pending".
He explained he first became engaged in politics with the UMP in 2006, as he felt he didn't need to "wait to obtain French citizenship to commit to this country that I love".