Get began to pray when he saw an Italian navy vessel heading towards the broken-down migrant hulk he was packed into with hundreds of desperate refugees.
His ship was adrift in the Mediterranean Sea and the navy vessel had come to rescue him and the others asylum seekers on board after several terrifying days lost at sea.
But Get's life had taught him differently.
"In our experience, the military kill people," he said. "The soldier, the policeman in our country is a killer."
His fear of military forces vanished when he saw Italian navy officers diving in the waters from a helicopter to rescue fellow migrants who had fallen overboard.
Get fled the Eritrean-Ethiopian war that killed some 70,000 people between 1998 and 2000.
He has been on a 15- year odyssey of the damned that took him through refugee camps in Sudan, across the Libyan Desert and the Mediterranean up to Europe's closest point to Britain, Calais.
He says he lost his wife and children along the way and arrived alone on the north west edge of Europe a few months ago, one of thousands who have reached this migrant bottleneck over the last year, bringing the French port's asylum seeker population up to more than 2,300.
They come from the most blighted corners of the planet, with little in common but a dangerous past touched by war and persecution, and the hope of a new life in the UK.
Syrians, Sudanese, Eritreans, Afghans and many others live in several makeshift camps known as "jungles" scattered across Calais, exposed to the cold and weather, with no sanitation and running water.
Their presence has become a thorny political issue in France, but has also triggered a large charitable effort from local residents moved by their plight.
Get wept when he told IBTimes UK how he was recently offered a shower and a meal by a local charity. It had been three months since he had last washed with hot water, an invaluable commodity for those living predominantly outdoors in northern Europe's chilly winter months.
Fiver, a 20-year-old who fled Sudan's war-torn region of Darfur, wore a sad smile when we asked him what the main issues and needs were at his jungle.
"You can see it yourself," he said, gesturing towards the small tent city lying on a muddy field bordering a highway.
"This situation is similar to the situation in Darfur," he said.
He too risked death at sea. After fleeing his country for Egypt, he paid $2,000 (£1,330; €1,760) to human smugglers for a passage to Europe.
Four days into the journey, his boat started taking on water. Only 20 of the about 350 migrant who were on board survived to see the Greek fishing boat that rescued them off the Island of Crete.
The rest drowned, he said, joining in death more than 3,000 migrants who perished in the Mediterranean in 2014, according to the UN agency for refugees.
Channel roulette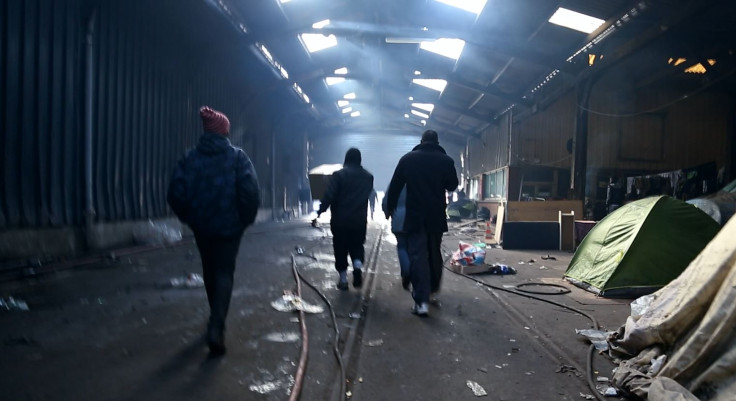 In Calais, with no money and little food, he and others rest during the day to try their luck at night, in the risky roulette of a clandestine border crossing.
As darkness comes, hundreds crouch near slow points of the roads leading to Calais port and the Channel Tunnel terminal, waiting for the right moment to stow away in, or underneath a lorry and make it undetected through UK border checks, which were moved here from Dover in 2003.
For many like Fiver and Jacob, 24, from South Sudan, who arrived here via Greece, it is not the first dangerous crossing hidden somewhere on a lorry.
"I crossed from Patras to Italy under a truck ... that boarded a ferry. I [spent] 36 hours under [the truck]," he explained.
Jacob said he managed to avoid police and pass border controls twice also here in Calais, but twice he was also caught and sent back to his camp after a night in custody.
"The second time, I didn't know I had passed controls. It was very cold and my legs couldn't move. I came down and gave myself up to police because it was too difficult, it was too cold," he says.
Many lament that the swelling number of migrants has been accompanied by an increase in police violence.
In January Human Rights Watch published a damning report detailing numerous alleged cases of police beating and attacks with pepper spray on asylum seekers found hidden in trucks or simply walking down a street.
Local authorities have denied any unjustified use of force by police against migrants.
"Denis Robin, the prefect of the Pas-de-Calais department, told Human Rights Watch that while there were injured migrants in Calais, their injuries were sustained during attempts to cross over to the UK or inflicted by other migrants. He denied that any were due to excessive and unjustified use of force by police," HRW report read.
Nevertheless charity workers and migrants at several camps confirmed HRW allegations to IBTimes UK.
Tim Woolrich, from Calais Migrant Solidarity charity said working in the camps he often witnessed several beatings and pepper-spray attacks a day.
"Someone was running along the motorway the other day and police deliberately opened the car door on him," he claimed. "These things happen all the time."
Fiver put it more succinctly: "Police is no good, police is a problem."
Dominique Mégard, a retired IT security consultant, who brings power generators and speakers to a camp for migrants to enjoy some music, said once police ruined with tear gas a stock of bread donated by a baker.
"I think it is like everywhere there is probably 90% of policemen that are doing their duty normally and 10% which don't," he said.
Pas-de-Calais prefecture didn't reply to IBTimes UK request for comment.
Problems and dreams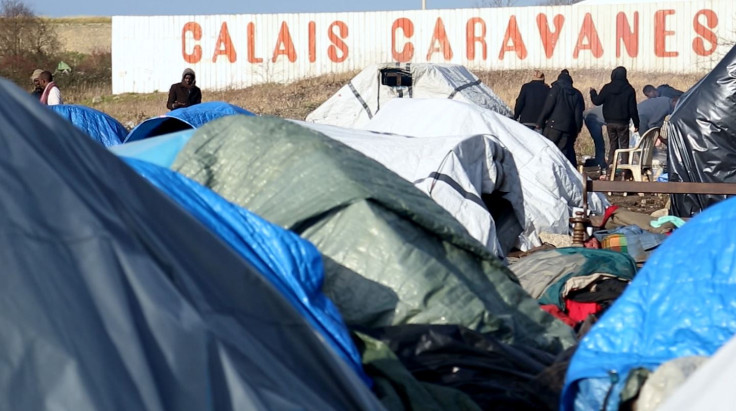 Get, a Christian who organises makeshift services for the jungle residents, said the violence and antipathy of Calais residents was rooted in the perception of migrants as criminals.
Most actually fled war crimes at home, loosing all they had to conflict and brutality, he said.
"Some people think we are thieves, rapists, bad people," he said, adding that in fact "we are just not lucky".
He too confirmed police violence is a daily event in Calais, however he didn't complain. Life here is still better and more secure than that he left behind.
"French police beat us I don't blame them," he said. "Because it is better, I'm in the better life, I am safe. Nobody kills me in here".
Get is well aware that his presence here is not welcome by everyone.
The swelling number of asylum seekers has fanned the xenophobic rhetoric and violence of a fringe of the population, finding fertile soil in Calais already high levels of unemployment.
In October, four men aged 18 to 20 were handed suspended sentences for throwing Molotov cocktails at a migrant squat.
"I don't blame any person in here because Europe is for Europeans not for us... but I have no choice, I'm arriving here," said Get.
He said European governments should invest funds and exert diplomatic pressure to end conflicts abroad if they want to stop the flow of migrants trying reaching their shores.
"The real solution is in Africa," he agreed.
To keep him and hundreds of others away from the land of their dreams, the UK government has committed £12m to reinforce border security at Calais.
Measures introduced to cope with the burgeoning migrant population include new security fences and vehicle scanning equipment and a boost in search dogs patrols.
Political pressure is mounting in the United Kingdom to staunch the flow of migrants into a country battered by five years of austerity. As it gears up for a general election, anti-immigrant rhetoric is mounting and the most vociferous voices are greeted enthusiastically. Thus, the avowedly anti-immigration United Kingdom Independence Party (Ukip) has surged to become the third biggest party, according to recent polls.
Stoking anxiety about jobs and social cohesion, Ukip claim to speak for a 'silent majority' tired of the swelling numbers of strangers in their midst.
Indeed, not all of Calais migrants are genuine refugees. A man who declined to be identified said he was living in Scotland but was expelled after an episode of domestic violence.
He has made his way back to Calais, where he lives among others waiting for the right change to cross back.
He wants to re-join his wife and daughter, who, however, given his record, might be put at risk by his return.
Asked if they were waiting for him he replied "I don't know" and, visibly in distress, choked back tears.
Additional security measures have made it increasingly difficult for migrants to complete the perilous illegal crossing. Numerous asylum seekers have reportedly died trying over the last year.
Nevertheless, most have not given up hope.
Fiver believes that in the UK the process to achieve refugee status will be smoother than in other EU countries. He also thinks of Britain as a more welcoming place than France, one where it's easier to find work.
"Britain is better than any other country in Europe. In UK you can find job, documents anything ... also people in the UK love the black people," he says.
"I want to continue my studies and I want an ID and I want to delete the homeless situation, this situation... I want to prove myself [there]".
"It [the crossing] is dangerous but we have dreams. My dreams tell me go," he said.