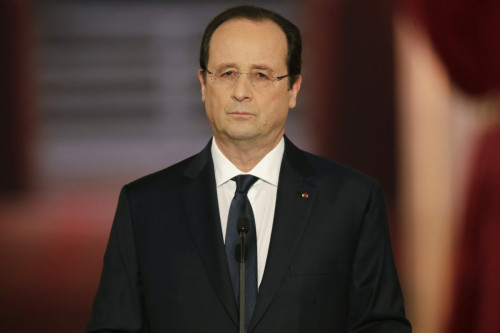 French president Francois Hollande was caught off guard by a British journalist during a press conference, who asked: "Do you think your private life has made France an international joke?"
Hollande refused to answer the question, which was fired at him during a conference for the Anglo-French summit at RAF Brize Norton in Oxfordshire.
Christopher Hope, senior political correspondent at the Daily Telegraph, asked the president: "Monsieur le Président. I know this is a very sensitive subject for you. Do you think your private life has made France an international joke?"
He added: Are you still having an affair with Julie Gayet? And do you wish she was here?"
Hollande, looking displeased at the questions, answered: "I'm afraid I would decline to answer."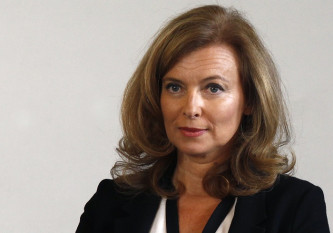 Hollande officially "fired" the First Lady last week, after he announced his split from Valerie Trierweiler. It was revealed the president was having an affair with a French actress, Julie Gayet, earlier this month. Hollande and Trierweiler had been in a relationship for seven years before the affair was exposed.
Speaking to Paris-Match, where Trierweiler has worked as a journalist, she said she did not believe the allegations at the time. She revealed: "When I found out, it was like I had fallen from a skyscraper."
She has since revealed she plans to write a book, documenting the affair between her ex-partner and his former lover.
The question at the first Anglo-French summit caused controversy among various politicians and journalists. Axekke Lemaire, a French Socialist politician, condemned Hope's pertinent inquiry.
She argued it was "disrespectful and discourteous for a UK journalist to ask President Hollande about his private life in such a way". Lemaire also remarked: "Is this journalist a joke?"
Hope defended his questions on the basis of a free press. Lemaire dismissed his argument, however, stating the UK was similarly "scandalised when Closer magazine exposed topless photographs of the Duchess of Cambridge. Lemaire tweeted James Chapman, political editor at the Daily Mail:
While discussing his approach to the subject on Sky News, Hope maintained the questions were not a joke. He also commented that French journalists were "far too deferential to their political masters" - unlike their British counterparts.
Hope told Sky: "If she calls me discourteous or disrespectful I fully plead guilty to the last. I don't have to respect our leaders, I respect our readers and ask questions on their behalf and I will defend that right to the hilt. It's not childish, I'm too old to be a child."