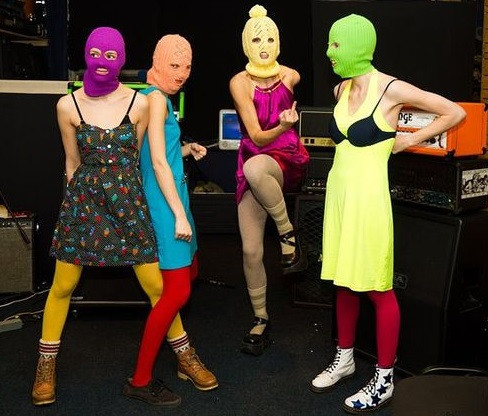 The recently freed members of the Russian feminist punk band Pussy Riot have put their support behind another beneficiary of Vladimir Putin's pre-Sochi Olympics amnesty as the man who should take over as president of Russia.
Nadezhda Tolokonnikova, 24, and Maria Alekhina, 25, who walked free after spending nearly two years behind bars for their role in the "Punk Prayer" in Moscow's central cathedral, said that Russia's former richest man, Mikhail Khodorkovsky, should take Putin's job.
"As for Vladimir Putin, we still feel the same about him," Tolokonnikova said. "We still want to do what we said in our last performance for which we spent two years in prison: drive him away."
Tolokonnikova and Alyokhina were serving a two-year sentence for the so-called punk prayer protest against Putin in Moscow's Cathedral of Christ the Saviour.
They were jailed along with Yekaterina Samutsevich, who was released on a suspended sentence in October 2012.
The two were due for release in March but the Russian parliament pardoned them as part of a sweeping amnesty.
Tolokonnikova and Alyokhina said the amnesty was a publicity stunt by Putin ahead of the Sochi Winter Olympics.
The two suggested that Khodorkovsky, a vocal critic of the Kremlin and former Russian oligarch who was pardoned by Putin after a decade in jail, would make a better president.
"I would very much like to invite Mikhail Borisovich [Khodorkovsky] to play this role," Tolokonnikova said.
"He's a very strong person, a very tough person, and an incredible person who endured a much tougher and longer prison term than we did."
The two said they planned to form an advocacy organization called Law Zone to help female prisoners and wanted Khodorkovsky to work with them.
"We think that would be very important for advocacy work. If he deems it possible to work with us it would be a great honour for us," they said.
Tolokonnikova denied that the freed billionaire would fund the organisation.