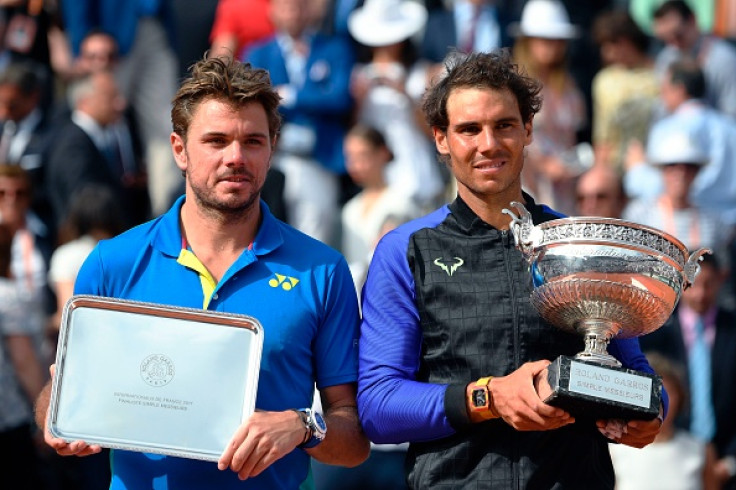 Stan Wawrinka believes Rafael Nadal is playing the best tennis of his career after winning yet another French Open title.
Nadal completely outclassed the 2015 French Open champion with a dominant 6-2, 6-3, 6-1 victory to become the first player in Open era history to win a Grand Slam 10 times.
In what many would regard as his most dominant finals performance at Roland Garros, the 31-year-old not only ended Wawrinka's 100% Grand Slam final record but also overtook him in the world rankings as the new number two with his tally now at three titles in 2017.
"He's playing the best he's ever played," Wawrinka said after the match, as quoted on Yahoo. "He's the best ever on clay; it's always a tough challenge. It was the Rafa I was expecting."
"We saw how he has been playing since the beginning of the season - fit, aggressive, his level has been incredible. When you hesitate on how to play a ball, your legs move later and it's too late. You have to be able to play without thinking. If you hesitate for half a second, it's already too late. If you're not completely free...you don't want him to take the lead and play even more freely.
"At the end of the day it was three sets, nothing to say. I can talk about the game, about what I did, about what he did, but at the end of the day it's quite clear."
The 32-year-old did look at the positives though — following his semi-final exit in the Australian Open in January, Wawrinka's performances were very inconsistent with early exits in the ATP events.
However, he did recently win the Geneva Open and was on a 10-match winning run until he met Nadal.
"It was an amazing tournament," he added. "Today I lost the final but three weeks ago I was feeling down, I had doubts about my game."
"Then I won Geneva and I reached the final of a grand slam. That's big for me but I will need a few days to really see that."
Wawrinka will play next at the Aegon Championships (19 June - 25 June) after joining a star-studded lineup at the Queen's Club in February.