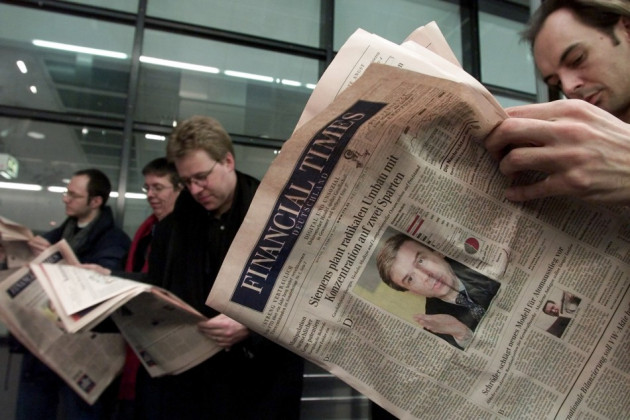 Pearson Group, the publisher which owns the Financial Times, has lost its second senior executive in as many months after the announced departure of FT Group CEO Rona Fairhead.
The news follows last month's decision by Marjorie Scardino to step down after sixteen years as Pearson CEO and will likely reignite market speculation that it plans to sell its venerable flagship "Financial Times" newspaper. Fairhead will depart in April after twelve years with the group, the company said in a statement Tuesday.
"The leadership transition at Pearson makes this a natural moment for me to make a change," Fairhead said. "I will miss Pearson deeply but will cheer from the sidelines as its new leadership team develops and evolves Pearson's successful strategy and culture. I am very proud to have been part of it, but am ready to tackle a new set of challenges."
Scardino, who famously vowed the iconic pink paper would only be sold "over my dead body" will retire in January and be replaced by new CEO John Fallon, whom many analysts assume will continue to steer the company towards a deeper focus on educational publishing, which comprised around 75 percent of Pearson's first-half sales.
Earlier this month, Pearson CFO Robin Freestone told an investor conference in Barcelona that his company's ownership of the FT Group "could change" even though Fallon described it as a "highly valued and very valuable part of Pearson."
Pearson's FT Group holding, which includes a 50 percent stake in the Economist, could be worth as much as £750m. The jewel in the stable, however, is the 120-year old financial daily, which has a circulation of more than 600,000 and one of the best-known brands in media.
Earlier this week, the FT's sister paper in Berlin, the FT Deutschland, announced it will publish its last edition on 7 December after more than 12 years and €250m in losses. The FT Group had sold its 50 percent stake to publisher Gruner + Jahr in 2008.
Pearson shares were down 1.5 percent by late afternoon in London trading, changing hands at 1,166 pence each. The stock has fallen around 3.6 percent so far this year.