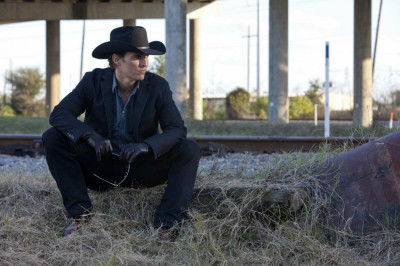 His spine-chilling performance as a hitman in William Friedkin's Killer Joe has started an Oscar buzz around Matthew McConaughey, an actor many thought had left his best years behind him.
Instead, he looks set to put a string of embarassing romantic comedies behind him and use his natural charisma in more testing roles.
McConaughey's resurgence comes as the Academy Awards baton looks set to pass on to the next generation.
The last few years have seen some of the most popular and well-known faces picking up award nominations again and again. George Clooney, Gary Oldman, Jack Nicholson, Meryl Streep - actors with quality back-catalogue who will inevitably be rewarded for their years of service.
More and more legends of the craft are stepping back from the major roles, either dipping into comedy (De Niro), finding themselves unable to recapture their previous best (Al Pacino), or doing whatever it is they feel like (Christopher Walken).
Behind them, however, comes a new generation of actors slowly stepping into the spotlight and showing real presence. They may not be leading their own films just yet, but they have the ability to be the next cinema legends.
Every one of the actors and actresses we call a cinema legend was once "the one to watch", but not all of the next generation will have the staying power to become real cinema icons. Who will be the new Academy Awards favourites?
IBTimes UK gives its tips for the Streeps, De Niros and Nicholsons of the future: