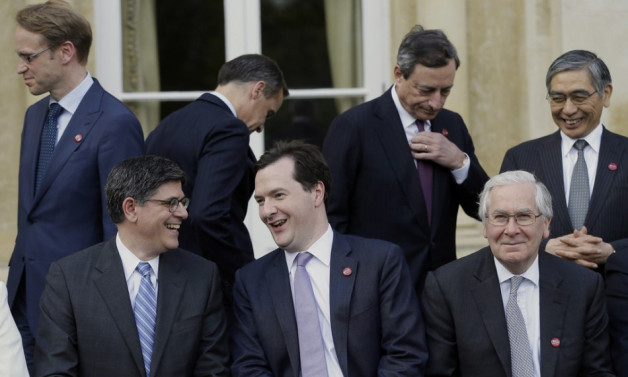 The G7 group of industrialised nations has agreed to take collective action to target tax avoidance while agreeing to press on with moves to ensure no bank is "too big to fail", said the UK chancellor, George Osborne.
Speaking at the close of the two-day meeting of finance ministers and central bank chiefs in Aylesbury, Buckinghamshire, Osborne said it was "incredibly important that companies and individuals pay the tax that is due".
He said there was strong agreement among member states - the US, Germany, Japan, the UK, Italy, France and Canada - on tackling tax avoidance.
"We all agreed on the importance of collective action to tackle tax avoidance and evasion," he said.
"It is incredibly important that companies and individuals pay the tax that is due and this is important not just for Britain and for British taxpayers but also for many developing nations as well."
Osborne said British overseas territories including tax havens such as Jersey or the Cayman Islands "need to do more" to curb tax avoidance.
"Of course you have to respect that many of these territories have important industries and we don't want to unnecessarily damage them," said the chancellor. "But it is necessary to collect tax that is owed and it is necessary to reduce tax avoidance and the crown dependencies and the overseas territories need to play their part in that drive and they need to do more."
G7 delegates also pledged to press on with measures to deal with failing banks and ensure that no lender is "too big to fail", Osborne added.
Osborne said finance ministers and banking officials remained focused on unfinished banking reforms.
"It is important to complete swiftly our work to ensure that no banks are too big to fail," Osborne said. "We must put regimes in place...to deal with failing banks and to protect taxpayers and to do so in a globally consistent manner."
Osborne said there was an "improved outlook" for the world economy, but admitted the situation remained precarious.
"We are of course meeting at a time when financial market sentiment has improved and there are signs that this is feeding through to an improved outlook in some of our economies," Osborne said.
"However we all agreed that growth prospects remain uneven and we can't take the recovery for granted."
Other guests included Mark Carney, the incoming Governor of the Bank of England, its outgoing boss Sir Mervyn King, and the IMF managing director Christine Lagarde.
The IMF will deliver its verdict later this month, but has already hinted it believes Osborne should be more flexible with his austerity programme.
Shadow treasury minister Catherine McKinnell said: "It's disappointing that this G7 meeting has failed to set out any concrete steps to promote economic growth or tackle tax avoidance."