Researchers at the University of Illinois have developed a smartphone app that turns a mobile phone into a medical monitor capable of picking up problems in patients suffering from chronic heart and lung problems.
GaitTrack works by analysing how a person walks. Unlike pedometers, the app has eight motion parameters which analyse a person's gait, which is considered by doctors to be the "sixth vital sign" after blood pressure, temperature, respiratory rate, heart rate and blood oxygen level.
"Fitness apps and devices are tuned for healthy people," said Bruce Schatz, the head of medical information science and a professor of computer science at the U of I, who led the research.
"They cannot accurately measure patients with chronic disease, who are the biggest medical market. A pedometer is not a medical device, but a cheap phone with GaitTrack software is."
The study, entitled Health Monitors for Chronic Disease by Gait Analysis with Mobile Phones, is published in the Telemedicine and e-Health journal.
Six minute walk test
Patients suffering from chronic diseases such as asthma, chronic obstructive pulmonary disease (COPD) and congestive heart failure are usually monitored using specialised medical accelerometers by doctors, who administer a six-minute walk test to detect problems in their gait.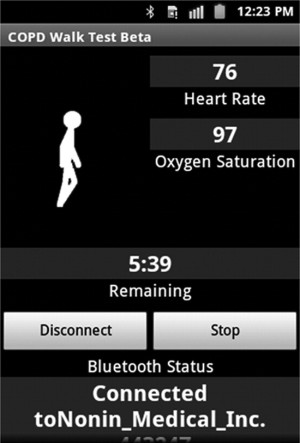 Changes in a person's gait speed can indicate that there are problems in any of the several systems that help a person walk.
The researchers tested out GaitTrack with 30 patients suffering from chronic lung disease and found that the app was able to monitor their conditions during the six-minute walk test more accurately than the medical accelerometers.
Gait data gleaned from the app was able to predict lung function for an age group with 90% accuracy, and as the solution is much cheaper, it could potentially save hospitals a lot of money.
An official medical monitor
"The original plan was just to validate the software against the standard medical walk test, but we looked at other data and found that it matched well with a pulmonary function test called FEV1" said Schatz.
"Predicting FEV1 is useful because that's the standard number used to determine treatment. That's worth a lot to a health system."
The researchers are currently trialling the app at two hospitals and hope to release GaitTrack on app stores by the end of the summer.
Schatz hopes that the app will one day be certified by the FDA to become an official medical monitor, whereby the patient keeps a smartphone on their person and the GaitTrack app alerts the patient and their doctor if any changes in gait are detected.
"Population health measurement is the key to making health care viable. If you could just measure what people were doing all the time, then you could get enough information to make rational decisions," said Schatz.