Police are still hunting the Galatasaray football hooligans who threw flares onto the pitch during their sides defeat to Arsenal in the Champions League last month.
Angry scenes erupted in the away end after Danny Welbeck scored Arsenal's second goal in a 4-1 win over the Turkish giants.
The match referee had to delay the game after flares rained down on the pitch, shrouding the Emirates Stadium in smoke.
Galatasaray's goalkeeper Fernando Muslera and captain Wesley Sneijder cleared the pitch of flares and urged their supporters to calm down.
Police are now appealing for help in identifying nine men they would like to speak to in connection with the disorder that took place on Wednesday, 1 October.
During the match a number of individuals were seen to throw lit flares and other items towards the pitch.
One of these flares was thrown at a fire steward who was putting out another flare on the pitch at the time, this flare exploded directly in front of him causing him to fall back onto the ground.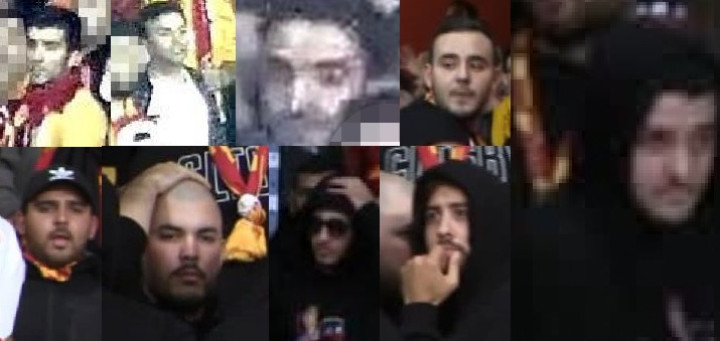 Detective Inspector David Birrell from Specialist Crime and Operations Public Order Branch said: "The possession and use of flares in a public place is a criminal offence and it is wholly unacceptable for supporters to place others at risk through their violent behaviour.
"We will deal robustly with those responsible for disorder, whether inside or outside football venues, and we will arrest and place them before the courts."
Violence erupted before the kick-off when flares were thrown near to the Tollington pub in Hornsey Road, north London.
Two men were arrested before the game for attempting to enter the ground with flares before another five other men were arrested: one for criminal damage, one for being wanted on warrant, two for public order offences and one for throwing a flare onto the pitch.
Anyone who is able to identify any of the men pictured is asked to contact officers from Operation Arrowtip and the Public Order investigation team on 020 8246 0076 between 8am and 4pm.
Alternatively if they wish to remain anonymous they can contact Crimestoppers on 0800 555 111.