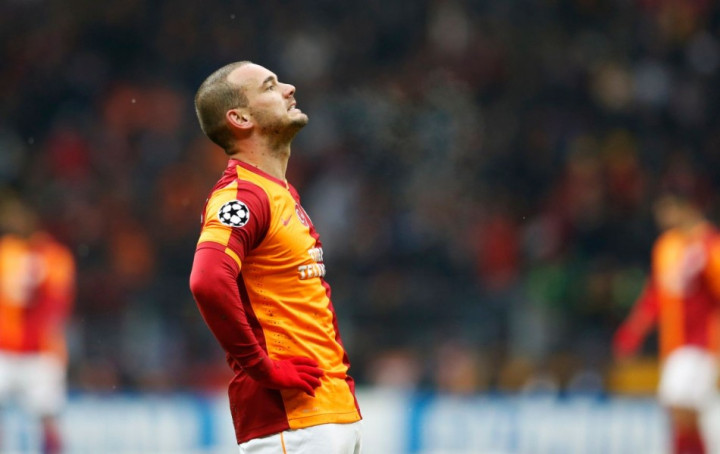 Dutch midfielder Wesley Sneijder has dismissed a future move to Manchester United after confirming that he is settled in Turkey with Galatasaray.
Louis van Gaal will be looking at further signings to add steel to United's midfield and defence following the 5-3 capitulation against Leicester City on Saturday. The Dutchman was keen to sign Sneijder earlier in the summer.
The Galatasaray midfielder was a key part of van Gaal's team during the 2014 World Cup in Brazil and can provide solidity and movement to the Red Devils' midfield.
However, although the player is delighted to be linked with the Old Trafford club and even praised the manager, he has ruled out a move in the near future after admitting that he is settled and happy in Turkey at the moment.
"It's great to hear that van Gaal is interested in me, he is a footballing genius," Sneijder said, as quoted in the Mirror.
"However, I doubt Manchester United could tempt me to leave Galatasaray right now, I don't see it happening."
"Everything is going well for me in Istanbul and I have settled into life in Turkey and feel at home," the Dutch international added.
The 30-year-old midfielder also claimed that Galatasaray is not going to let him leave for a 'cheap price' and hence believes it is best not to talk about any future move to Manchester.
"I don't even know why we keep talking about this. Galatasaray will not be letting me go for a cheap price. It is very unlikely that any deal will happen," the former Inter Milan midfielder explained.