Galatasaray Resolve Wage Dispute with Louis van Gaal Favourite Wesley Sneijder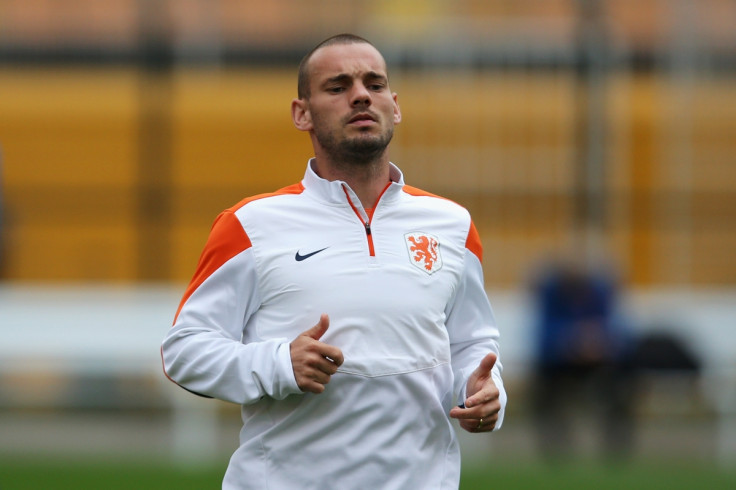 Galatasaray have resolved the issue that saw midfielder Wesley Sneijder owed three months' of outstanding salary, ending the possibility of the Dutchman leaving the club on a free transfer.
Sneijder claimed during the summer transfer window Manchester United manager Louis van Gaal was keen to sign him after being named the new manager at Old Trafford.
While the Dutchman later claimed he was content to carry on at Galatasaray, the club's failure to pay him his wages – a sum reportedly worth £790,000 – left his future in Istanbul in severe doubt.
According to Fifa's Commentary on the Regulations for the Status and Transfer of Players, a period of three months without receiving salary serves as just cause for a contract termination.
Dutch daily De Telegraaf initially reported the player would be free to cut his ties with the club if a solution was not promptly met, but it has now emerged Galatasaray have resolved the issue.
Sneijder himself claims the issue of his outstanding wages was blown out of proportion and insists he is now solely focused on Saturday's derby against arch-rivals Fenerbahce.
"I was not too worried about it," Sneijder told the same publication. "After the disappointment against Iceland [a 2-0 defeat for Netherlands in their European Championship qualifier] I am keen to get ready for the derby against Fenerbahce."
The 30-year-old's agent Guido Albers has also confirmed an agreement has been met with Galatasaray, telling Sport TV: "We have spoken with Mr Aysal [Galatasary's president] and resolved the issue."
Former Ajax, Real Madrid and Inter Milan midfielder Sneidjer has been linked with a move to United on and off for the past four years. The player initially appeared keen on the possibility of making it happen this summer after telling reporters he would find it very hard to turn down an offer from his former national team boss.
Sneijder would later suggest, however, he rejected United's interest due to his desire to compete in the Champions League this season.
© Copyright IBTimes 2023. All rights reserved.