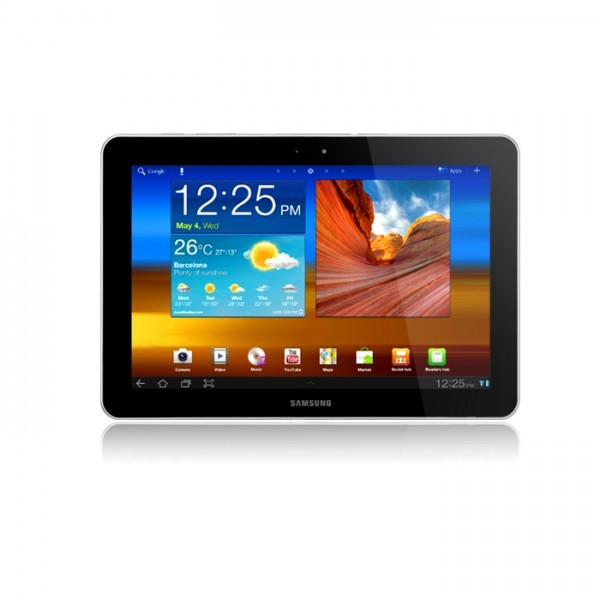 Samsung Galaxy Tab 10.1 users waiting for the official Android 4.0 (Ice Cream Sandwich, or ICS) update can cheer at last. An Android 4.0 firmware - XWLP5 - is now available for manual download and installation.
The new ICS update brings feature enhancements such as improved performance, better battery life, advanced mobile data usage management and face unlock. A manual installation is ideal for custom ROM users who need the Android 4.0 update and those residing in regions outside the OTA (Over-The-Air) network coverage from Samsung.
Key Points
The XWLP5 ROM-based ICS update is meant for the Indian region but is expected to work on Galaxy Tab 10.1 (model number P7500) units across the world. In other words, this update is model dependent but region independent.
The ROM and instructions provided in this guide are compatible only with the Galaxy Tab 10.1 P7500 model (Wi-Fi+3G variant). Verify your device's model number by navigating to Settings > About Tablet.
Make sure the correct USB drivers for the tablet are installed on your computer. If Samsung's KIES software is already installed, it should contain the necessary drivers and you can skip this step.
IBTimes UK advises users to back up apps, important data and settings to avoid data loss while installing the XWLP5 Android 4.0 ICS update.
The instructions provided in this guide are meant for reference purpose only and do not cover any warranty claims involving device damage or issues arising out of using the firmware update. Users are advised to proceed at their own risk.
How To Install XWLP5 Based Android 4.0 ICS Update on Galaxy Tab 10.1 P7500
Step 1: Download XWLP5 firmware for Android 4.0 ICS here Download XWLP5 | Alternate Link for Firmware (Filename: P7500XWLP5_P7500ODDLP5_INU.zip | Size: 409 MB).
Step 2: Extract downloaded zip file to access P7500XWLP5_P7500ODDLP5_P7500XXLQ8_INU_ONLY_HOME.tar.md5 (Note: the file name may end with .tar instead of .md5 as the file extension is usually hidden).
Step 3: Download Odin 1.85 for the PC from here and extract zip file.
Step 4: Unplug tablet from PC (if connected) and power it off.
Step 5: Place tablet in Download Mode. To do so, press and hold the Volume Down and Power buttons together until screen powers on and you see a "Warning!!" message on screen. At this point, release both buttons and press Volume Up to enter Download Mode.
Step 6: Launch Odin - double-click Odin3 v1.85.exe file.
Step 7: In Odin, click PDA button and select the P7500XWLP5_P7500ODDLP5_P7500XXLQ8_INU_ONLY_HOME.tar.md5 file. It is important you leave other settings untouched.
Step 8: Connect tablet to PC now. You should see the message "Added!" in Odin's message box at the bottom left. If you fail to get this message, then it could be an issue with drivers. Ensure correct USB drivers are installed. If these are correct then try to uninstall Kies software from the Control Panel to remove corrupted System Files from the computer and preserve just the drivers.
Step 9: After confirming device has been recognised and added, tap to begin flashing firmware. The device will reboot after installation and you may unplug device when the Samsung logo appears. At that point you should see "Pass" against a green background, in the left-most box at the very top of the Odin screen.
If Odin Gets Stuck -

If Odin gets stuck and doesn't respond or you get a "Fail" message (against a red background), unplug tablet from PC, close Odin and then press and hold Volume Down and Power keys until device reboots and shows "Warning!" screen. Now press Volume Up to enter Download Mode and then repeat procedure from Step 6.
Step 10: After the "Pass" message and the tablet reboots, it may freeze at booting animation. If that happens, follow these instructions but be aware it will wipe out personal data like contacts, apps, messages, etc.
Boot to Recovery Mode - To do this, press and hold Volume Down and Power till tablet reboots and then release Power but keep holding Volume Down for a few more seconds to enter Recovery Mode. In Recovery Mode, use Volume keys to navigate and Power key to select an option
Tap Wipe Data/Factory Reset to highlight and select. Click "Yes" on next screen to confirm action
Step 11: Finally, hit Reboot System Now to reboot tablet and it should now boot properly
The official Android 4.0 ICS update is now installed on your Galaxy Tab 10.1 P7500.