Real Madrid star Gareth Bale has included four Arsenal legends and one former Chelsea star in his all-time best eleven, as part of a new EA Sport FIFA 2014 campaign.
Having begun his career at Southampton, the Welshman international moved to Tottenham in 2007 where during six seasons he became a favourite for White Hart Lane supporters, earning the PFA Players' Player of the Year award twice and scoring 42 goals in 142 matches for the club.
However, asked to choose his FIFA Ultimate Team of all-time in a promotional campaign for EA Sports in Spain he has not doubt about picking four players from Tottenham rival Arsenal.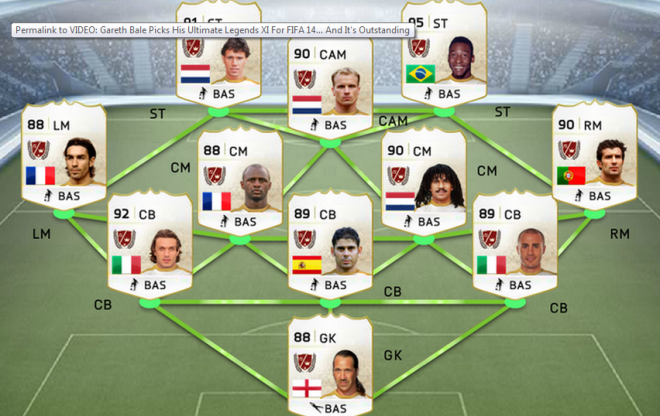 Former 'keeper David Seaman is Bale's number one while Robert Pires, Patrick Vieira and Dennis Bergkamp are included alongside Chelsea legend Ruud Gullit, Paolo Maldini, Fernando Hierro, Fabio Cannavaro; Luis Figo; Marco Van Basten and Pelé - with no space for any former Spurs player or Argentine star Diego Maradona.
"Viera and Pires are in my midfielder. They went on the (Arsenal) unbeatable run of 49 games and they formed a great partnership for Arsenal an France", said Bale.
"And I will play with Bergkamp behind the two strikers. In his mind he is one of the quickest, he thinks two steps ahead and deserveds to be in my team," add the Real Madrid winger.
Bale is currently playing for Real after last summer he decided to made a step forward in his career to join La Liga giants for a world record transfer fee of £91m.