Gareth Bale ready for Champions League final but Zidane refuses to confirm Real Madrid plans
Dani Carvajal is also expected to be available to face Juventus on Saturday 3 June.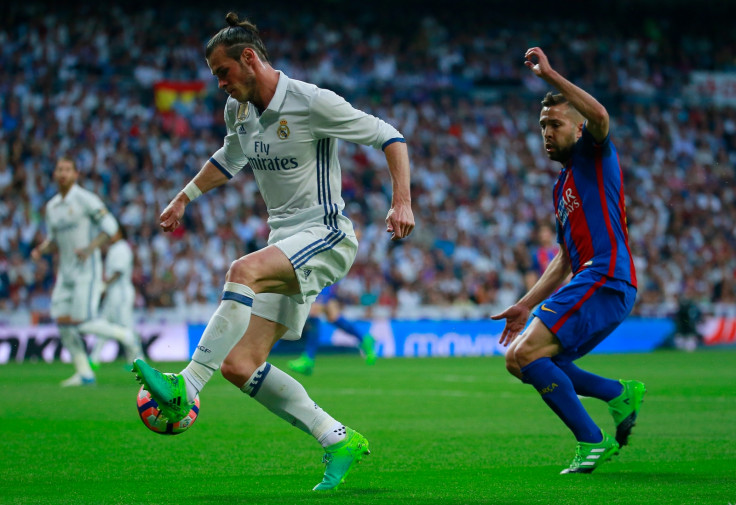 Gareth Bale is completely "recovered" ahead of the Champions League final against Juventus but Zinedine Zidane refused to confirm whether the Real Madrid record signing will make his starting line-up on Saturday (3 June). Yet, the France boss expects to have a fully fit squad at his disposal, with Dani Carvajal also managing to shake off his recent injury woes to makes himself available for the Cardiff final.
Bale, 27, is yet to play a game since the 3-2 defeat to Barcelona in the second El Clasico of La Liga on 23 April. The former Tottenham Hotspur star was then returning to action from a calf injury but lasted just 39 minutes before suffering a recurrence.
Many in Spain have since advised Zidane to not risk Bale in the Champions League final even if the Welshman is fully fit to play – as they believe that Real Madrid look more balanced with an extra midfielder while playing with a 4-4-2 formation.
Isco has excelled in the middle of the park during his absence, helping Los Blancos to beat Barcelona to the La Liga title while also knocking Atletico Madrid out of the Champions League semi-finals.
Zidane has failed to clarify the dilemma over Bale and Isco but did confirm that the Welshman is fully fit to face Juventus.
"I do not think about that [speculation regarding Bale's future]. We are happy to see Gareth with us. I am happy to see that he is well recovered. Nothing else. We are going to prepare for the game all together as always. We are all ready," Zidane said in a press conference ahead of the game.
"They are difficult decisions because we have everyone available. I will have to choose between the 24 players. [I have to decide] who is going to start and who is going to go to the bench. There are also players who will be left out of the squad despite having had extraordinary seasons. This is the hardest thing for me. I will not tell you [my plans] but a manager knows what he will do four days before the game. But I will not say anything."
Bale is expected to be especially motivated to make the line-up as the final takes place at the National Stadium of Wales (also known as the Principality Stadium) in his home city of Cardiff.
However, Zidane suggested that this fact won't affect his final decision while adding that he could even use both Bale and Isco in the same line-up.
"Gareth does not have to say anything to me. He is ready. He is with us. He has a tremendous motivation because he plays at home. I'm only interested in that," he said.
"Both are very good players. The two have played 16 games together. You talk about Gareth or Isco but they can also play together. The important thing is that both arrive very well to the final. Gareth a little less because he has had less minutes. But he is already recovered from his injury. And we already know [what Isco can give us] because he has shown during the whole season."
Meanwhile, Carvajal suffered a hamstring injury during the first leg of the Champions League semi-final against Atletico Madrid on 2 May.
However, the Spain international could also reclaim his place at right-back ahead of Danilo having trained with the rest of his Real Madrid teammates since last week.
© Copyright IBTimes 2023. All rights reserved.