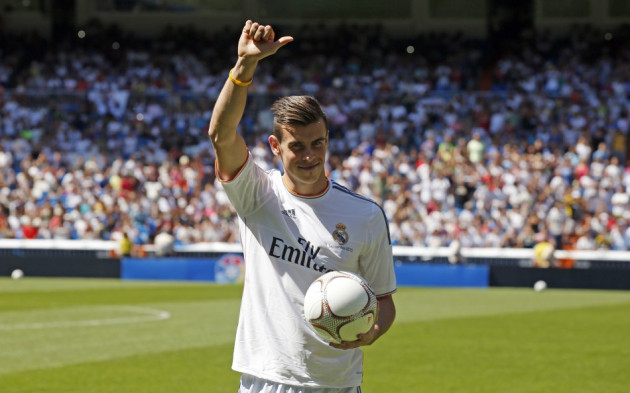 After months of speculation one of the most protracted deals of the summer was finally completed as Gareth Bale was unveiled to an adoring Real Madrid public as the most expensive player in the history of the game.
More than 30,000 supporters made their way to the Bernabeu to see the former Tottenham forward perform some keepy-uppies and kiss the Real Madrid badge. He would even delight his new adoring public by speaking in Spanish, saying: "Hello, it's a dream for me to play for Real Madrid. Thank you for the great welcome. Go Madrid."
Madrid president Florentino Perez, who led the club's pursuit of Bale as he looked to sign his latest 'Galatico' was clearly delighted to have finally landed his man.
"Years ago there was a boy in Wales who wore the jersey of Real Madrid," said Perez. "Gareth, this moment you dreamed of years ago, has now become a reality. You come to a club that demands more than any other in the world, but it will also be by your side. This is your club, your jersey, your badge, your place. From today this is your house, and your family."
The move sparked mass media coverage across Europe but unsurprisingly it was the Spanish press that went into overdrive. Spanish daily Marca had an image of Bale on their front cover with the headline 'I am very happy', while the first 11 pages where dedicated to the arrival of 'GB11'.
They would even go as far as to include an interview with Gwyn Morris, the PE teacher who helped Bale realise his talent at Whitechurch High School in Cardiff.
There were also comments from an array of Real Madrid managers and players, both past and present, with John Toschack - former Madrid and Wales boss - no doubt delighting supporters by suggesting Bale is a greater talent than Barcelona'a own big money addition Neymar.
"Even a blind man can see that there is something special about him. He's strong, introverted, modest and a true professional," he said. "The injuries he sustained as a lad made him stronger. We had never seen a 17 year old like him. Bale is closing in on Cristiano and Messi. Gareth is better than Neymar. If anybody is worth €100m, Bale is."
Even Jose Mourinho felt Bale was worth the huge transfer fee, saying: "I think that he's going to be worth every pound paid for him". While Sergio Ramos was delighted that he will soon play alongside the 24 year old, adding: "He could cause problems for any team in the world and has that talent that Real Madrid looks for in a signing. He's the right player for us".
Marca also suggest that the partnership of Cristiano Ronaldo and the former Tottenham forward means Madrid can boast 'two offensive weapons which are unrivalled at any other club in the world'.
Of course Bale's arrival was not treated with such delight by Catalan newspaper Mundo Deportivo who waited until page 20 to reveal the move had been made official, instead concentrating on the fact that Lionel Messi scored yet another hat-trick for Barcelona.
El Pais were also reserved in their judgement as Madrid correspondent Diego Torres argued that Bale does not deserve the tag of 'galatico'. He said: "His lack of international experience, with his national team and in the Champions League, leaves Bale without the 'cache' of his predecessors on the world's most expensive players' list."
There is sure to be plenty of column inches dedicated to Bale, who remained out of the media spotlight for the majority of his Tottenham career, over the course of his stay in Spain. We just hope it remains as positive and that he can flourish in one of the great sides in world football.