Gareth Bale refuses to confirm Manchester United approaches after signing new Real Madrid deal
KEY POINTS
Welshman has signed a new deal until 2022.
He says he couldn't turn down the chance to stay at the Champions League winners.
Former Spurs star fails to confirm reports new contract worth a record £350,000 a week.
Gareth Bale has refused to confirm whether Manchester United tried to lure him back to the Premier League before he decided to commit his long-term future to Real Madrid with a new deal. The former Tottenham Hotspur star insisted that he never thought about coming back to English football as he is very happy to play in the Champions League winners.
The 27-year-old left White Hart Lane in the summer of 2013 after Real Madrid paid Tottenham €101m (£90.9, $110.5m) to secure his services, making him the most expensive player of all time before Manchester United broke that record with the signing of Paul Pogba from Juventus during the last summer transfer window.
Bale helped Real Madrid to win the Champions League and the Copa del Rey in his debut campaign in La Liga, scoring a goal in the final of both tournaments against Atletico Madrid and Barcelona. However, his long-term future at Real Madrid came under scrutiny after his second season in La Liga was hampered by a number of fitness issues.
Manchester United reportedly tried to take advantage of the situation to lure him back to the Premier League, having eventually been linked with the Welshman even before his move from Tottenham to Real Madrid in 2013.
Bale won the Champions League again at Real Madrid last season but rumours about a potential move to Manchester United remerged as Jose Mourinho was looking to make a marquee addition to his squad.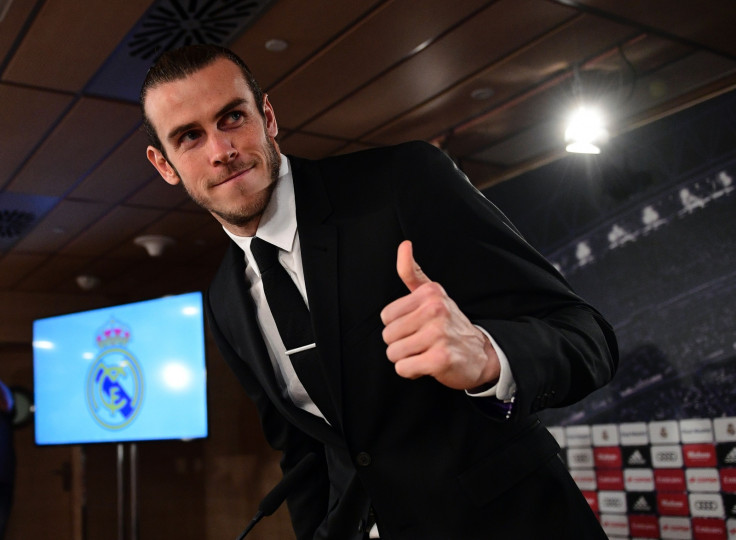 The Red Devils eventually turned their attention to Pogba while on weekend emerged that Bale has decided to commit his long-term future to Real Madrid by signing a new deal until 2022, meaning that the former Spurs hero will be at the Santiago Bernabeu until he is 33.
Asked during the press conference of the new deal whether Manchester United really try to temp him to snub Los Blancos to move back to the Premier League, he said: "I can't tell you if any club have been interested. Since I've been here I've been fully concentrated on playing for Real Madrid. I'm very happy here and we never really speak about these things. If (United) have (expressed any interest), I don't know about it. The main thing for me is to concentrate on my football and everything else is dealt with behind the scenes."
Bale admitted his start to the life at Real Madrid was not easy due to the high expectations which came following his record move to the Bernabeu. However, he managed to prove the doubters wrong and now considers La Liga may see out his career.
"I understand with media you'll get good and bad press. But that's football, it's the world we live in, part and parcel of the game. If you take too much notice you'll put yourself down," the former Tottenham hero admitted. "When British players travel abroad it's not usually successful but it was something I wanted to try, and I've had some great years here. It's given me more confidence to deal with what is thrown at me."
"I had one season where it wasn't the best but that made me grow up as a player and person. It made me learn to deal with whatever is thrown at me," he added. "In football you have good seasons and bad seasons, there was no real turning point. Sometimes things go for you, sometimes they don't. If things are going bad and you keep working hard, things will turn around eventually."
Yet, the former Tottenham star suggested that no one in the Premier League could offer what Real Madrid gives him in term of success.
"Real Madrid are the biggest club in the world. When you have chance to play for them you do not turn it down. I have loved every minute," he said. "I am very very happy, delighted. When I arrived I wanted to be successful and win titles. It's another dream come true and I hope there are more titles and trophies. I have improved my Spanish, my family is more integrated and I feel that the fans love me."
"I extended my contract because I feel very happy, every year I am more confident and I think we can keep winning titles. All titles are important and we want to win every competition we play in. I want to keep working hard and playing well."
The Guardian reports that the new deal makes him the best-paid player in the world ahead of Cristiano Ronaldo, increasing his salary to a stunning £350,000 a week after tax. However, sources in Spain reported that Real Madrid are denying that figures. Bale also refuses to clarify the issue.
"That's for me to know and no-one else to find out. Sorry," he concluded.
© Copyright IBTimes 2023. All rights reserved.