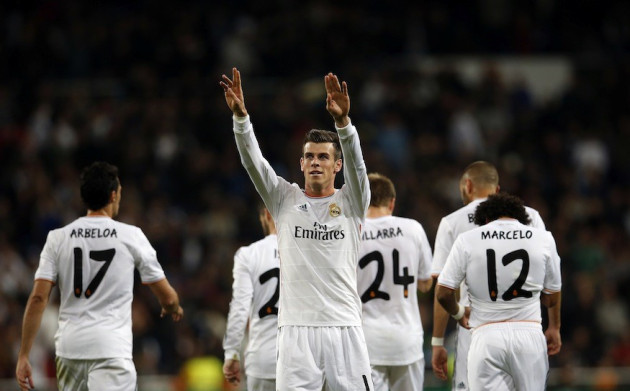 Gareth Bale proved that he does have what it takes to stand tall alongside Cristiano Ronaldo, recovering from a poor showing against Barcelona to score two goals and create two in Real Madrid's 10 goal thriller with Sevilla last night.
Bale scored in the 13th and 27th minute to put Madrid two up before Ronaldo struck with a hat trick to once again show the former Spurs star that he's still the boss of the wing position. Benzema added two goals to take Madrid's total to seven and keep them within touching distance of Barcelona in the La Liga table with a 7-3 win over their opposition.
The Spanish press that seemed intent on pointing out Bale's weaknesses over the past week, with the winger being well and truly outshone by Barcelona's big-money star Neymar during El Clasico, are now coming around to the man who left Tottenham for a record breaking fee to join Madrid in September.
Carlo Ancelotti praised Bale's efforts as he played his first full 90 minutes for Madrid after the manager had earlier advised the Wales international to work on linking up better with his teammates.
"Everyone saw the real Gareth. He showed fantastic skills," he told reporters after the game. "It takes time to adapt but it was a necessity. Now he doesn't have problems physically and he is improving his confidence, so he will be very important for us in the future."
Bale has been struggling with injury problems since his move from Tottenham and many Madrid fans have been expressing fears that the 24-year-old might not live up to his billing as the player to finally take them to Champions League glory after three consecutive semi-final losses.
In modern football there is little room for patience as fans pay big money to watch their top performers in action and managers are sacked on a regular basis when results aren't going their way.
British players don't have a great track record in Spain; Michael Owen himself told of a 'horror story' off the pitch when he made the move from Liverpool to Madrid in 2004 and tried to settle in the country; Bale's road from Tottenham where he was a seemingly big fish in a small pond to arguably the most successful team in the word was full of people doubting his ability to cope with the pressure.
While Ronaldo may well continue to outshine him for some time, the performance from Bale was an answer to his critics and showed that he might just be capable of moving past the pressure and showing he is in fact with every penny of his £85m transfer fee.