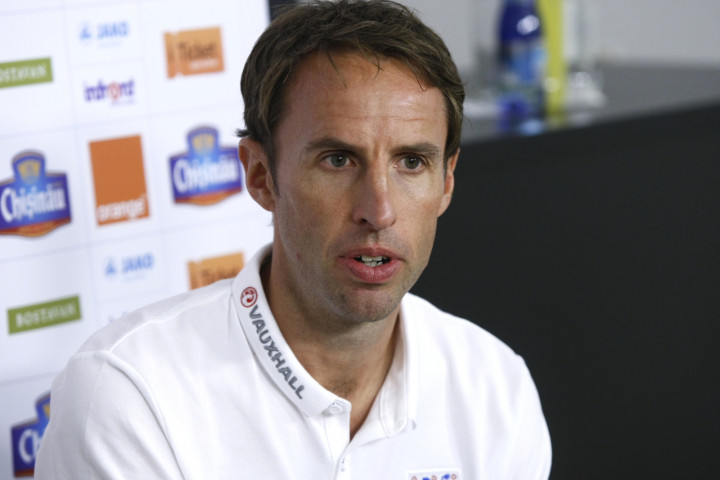 England Under-21 coach Gareth Southgate is ready to go to war with Arsenal, Liverpool, Everton, and Manchester United by asking the Premier League quartet to release their players for the 2015 European Championships.
Goals by Liam Moore and Will Hughes helped England overcome Croatia 4-2 on aggregate on Tuesday to book their place in the finals in the Czech Republic next June.
Southgate was able to call upon United full-back Luke Shaw for the two-legged play-off and is hoping to have a string of senior England internationals available for the finals despite risking a backlash from the Premier League's elite clubs just 12 months out from Euro 2016.
"I have been very careful throughout the campaign about who comes into the squad," Southgate said after assuring qualification. "They have to have a connection with the team and desire to come and play. I never worry about who I haven't got and I'm not going to start now.
"You can drive yourself to distraction. We could write a team sheet with illustrious names not involved here. The fact is, I believe we have such depth that we can challenge whoever we are playing with whatever players we put out on the pitch.
"There may have been cases where some players haven't fitted in to what we are doing. I certainly haven't had a club pull out a player and thought 'that's a bit off'. Managers and coaches at clubs have been really supportive – and I don' t think that will change.'
''I want the credit to be on the group who have achieved this. Can we win it? We have no way of knowing what the quality of the other teams are. The planning starts here."
Speaking to talkSPORT, Southgate added: "You only have to talk to Luke Shaw to see how much he enjoyed the two matches. He played extremely well and Croatia were a fantastic test for him. He's shown humility to come down and fit in with the group and that's what you hope for but it isn't a given that that happens.
"Raheem Sterling was the same when he came down and played with us earlier in the year and if we can start to breed that mentality in our players then it gives them a great chance of being successful."
As well as Shaw, United defender Phil Jones, Liverpool's Raheem Sterling and Jon Flanagan, Arsenal trio Calum Chambers, Jack Wilshere and Alex Oxlade-Chamberlain, and Everton pair Ross Barkley and John Stones – all of whom would be expected to play at Euro 2016 – are eligible for the tournament.
However, amid a club versus country battle between Liverpool and England boss Roy Hodgson regarding the physical well-being of Sterling, who missed the qualifier against Estonia from the start, Southgate faces an uphill task convincing top flight bosses of the benefits of the summer trip.
For the likes of Wilshere, Oxlade-Chamberlain, Sterling, Shaw, Jones, and Barkley, an appearance in the Czech Republic could lead to three successive summers of competitive football will little or no break in between and would likely lead to fears of burnout.
Arsenal manager Arsene Wenger has previously had concerns over the timing of the tournament and has been influential in withdrawing Wilshere and Oxlade-Chamberlain from previous squads.
United boss Louis Van Gaal has expressed worries over the fitness of Shaw following a gruelling summer with England at the World Cup, and after a disrupted start to his career at Old Trafford, is unlikely to be keen to release the player.
Liverpool boss Rodgers is another manager unlikely to be compassionate regarding the needs of the Under-21 side having been public of the miss-treatment of his players by the national team, leading to Sterling withdrawing himself from England's latest Euro 2016 qualifier on Sunday.
Arsenal defender Carl Jenkinson, currently on loan at West Ham United, is among the players who could be allowed to join up with Southgate's squad – which will be confirmed next May - with his place in Hodgson's squad uncertain.
Clubs are obligated to release their players once called up by their national associations, however managers will be expected to express their concerns over their physical state between now and next summer.