As it faces stiffer competition than ever from smartphone apps, Garmin has announced three new ranges of satellite navigation devices which use contextual information to offer more intelligent directions based on nearby buildings and landmarks, rather than distance.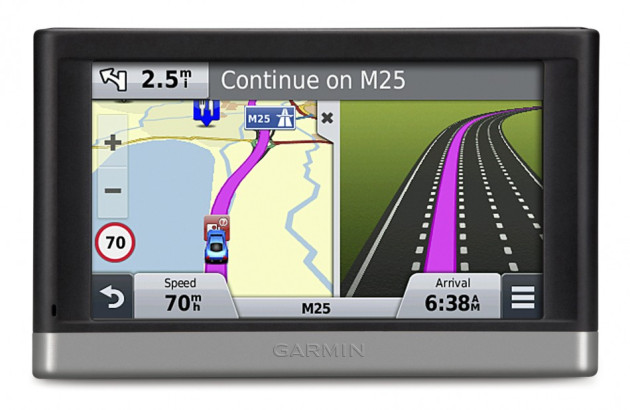 Where previously sat-navs would issue commands such as 'turn left in 300 yards', the 2013 range of Garmin's nuvi devices give directions like 'turn left before Big Ben,' or 'turn right after the orange building' to help a driver better understand the instructions, and with less emphasis on calculating distances.
The company's 2013 nuvi lineup includes three product ranges with a, slim smartphone-style design and screen sizes ranging from 4.3in all the way up to a tablet-rivaling 7in.
Garmin's nuvi range for 2013 is made up of the entry-level Essential which is the cheapest of the three (although prices are yet to be announced) and offers a basic A-to-B system, with spoken street names and lane assist to help you find your exit on the motorway; there's also free lifetime updates, so your map will always be up-to-date.
Next is the Advanced Series, which adds some extra features such as Garmin's new Real Directions system, using landmarks, other roads, bridges, buildings and 90 other varieties of guidance to direct you in a more natural way than just giving the distance to your next turn.
Examples of these directions given by Garmin include "turn left at the orange building" and "turn right before Big Ben". Such directions will no doubt help drivers who struggle to estimate distances while looking for their next turn.
The Advanced Series also includes Active Lane Guidance to help you navigate large roundabouts and complex motorway junctions with ease, and the feature also shows roadsigns as they appear in real life, making the process simpler still.
Finally, there is the Premium Series, which features a slim and stylish design, multitouch screen to give a similar experience to a smartphone sat-nav app; this range is only available with a 5in screen, but includes all of the features of the Essentials and Advanced series.
Garmin was keen to point out that its customers receive free mapping and traffic data updates for life, and this translates to the cheapest Essentials Series getting free map updates - useful when new roads are constructed - while the Advanced and Premium models also get free updates to their traffic data, helping you avoid roads at their busiest.
Unfortunately, Garmin is yet to say when the three new devices will go on sale, or how much they will cost.