Android Commands Over 70% of Mobile Phone Market
More than 70 percent of mobile phones sold globally run on Google's Android operating system, and as strong Galaxy sales continue, Samsung is pulling away from Apple and Nokia.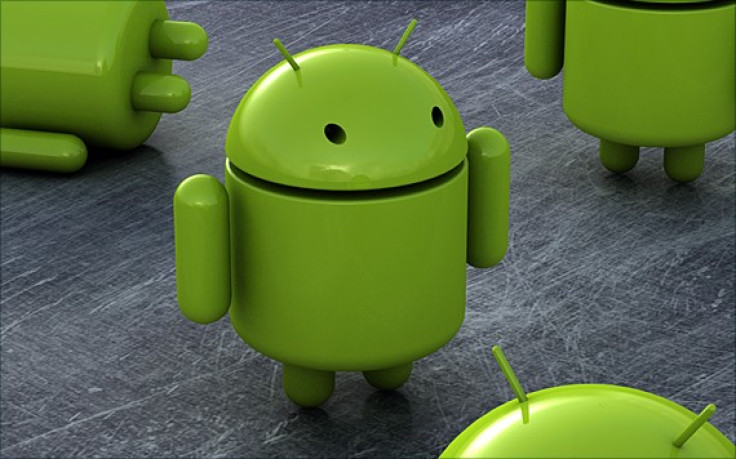 According to the latest fgures from Gartner, Android devices now make up 72.4 percent of mobile phone sales (up from 52.5 percent in 2011), while Apple's iOS is in second place with 13.9 percent of the market, down from 15 percent this time last year.
BlackBerry maker Research in Motion continues its downward spiral, falling from 11 percent market share last year to just 5.3 percent, as all hopes for the Canadian firm are now pinned on the new BlackBerry 10 operating system and two new phones, which are expected to launch on 30 January and be released in February 2013.
The figures will make grim reading for Microsoft, whose Windows Phone platform, launched just over a year ago, has made little impact on the company's share of the mobile phone market, gaining less than 1 percent in the last 12 months.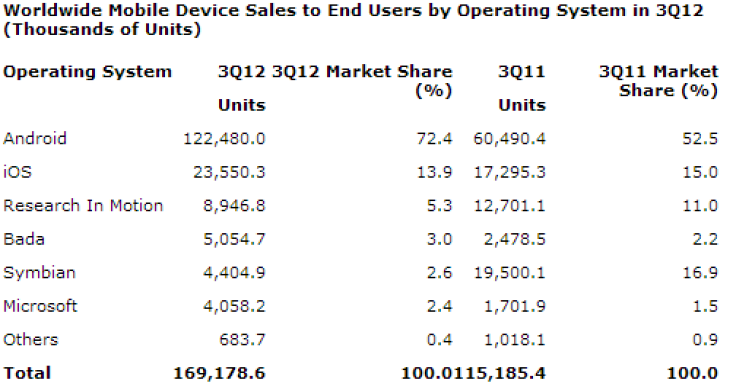 With Windows Phone 8 going on sale this quarter, backed by Nokia, HTC and Samsung, and closely related to the new Windows 8 operating system, Microsoft will hope that it can make more progress in 2013.
Microsoft CEO Steve Ballmer said recently that he expects Windows Phone 8 to knock RIM out of third place, so it will be interesting to see where the two companies stand at the end of 2013, after WP8 and BlackBerry 10 have had time to tempt consumers away from their rivals.
Meanwhile, the Symbian operating system has seen its share of the mobile phone market drop dramatically from 16.9 percent at this time last year, to just 2.6 percent now, narrowly above Microsoft and 0.4 percent behind Samsung's Bada system, which sits in fourth place.
Samsung retains mobile phone top spot
As for the mobile phone market as a whole - which includes smartphones and feature phones - Samsung commands a 22.9 percent stake, up from 18.7 percent this time last year and 3.7 percent above Nokia in second place.
Nokia phones represented 19.2 percent of the market in Q3, down from 23.9 percent in the same quarter last year, despite offering a range of new Windows Phone devices and its Asha series of budget phones aimed at developing markets.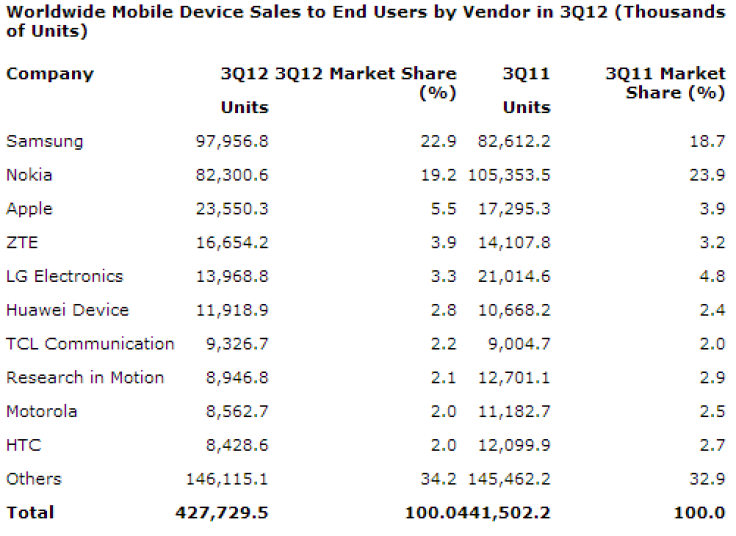 Apple takes the third spot with a 5.5 percent share - up from 3.9 percent last year - while Chinese manufacturer ZTE takes fourth and LG Electronics falls to 3.3 percent to round out the top five.
HTC, whose 8X device is considered the Windows Phone 8 flagship, is ranked just tenth as its share has fallen from 2.7 to two percent.
Overall, the worldwide mobile phone market saw 429 million devices sold in the third quarter of 2012, representing a 3.1 percent fall from last year.
But smartphone sales accounted for 39.6 percent of the mobile market, with sales up 46.9 percent on the same quarter in 2011.
"After two consecutive quarter of decline in mobile phone sales, demand has improved in both mature and emerging markets as sales increased sequentially," said Anshul Gupta, principal research analyst at Gartner.
"In China, sales of mobile phones grew driven by sales of smartphones, while demand of feature phones remained weak. In mature markets, we finally saw replacement sales pick up with the launch of new devices in the quarter."
© Copyright IBTimes 2023. All rights reserved.