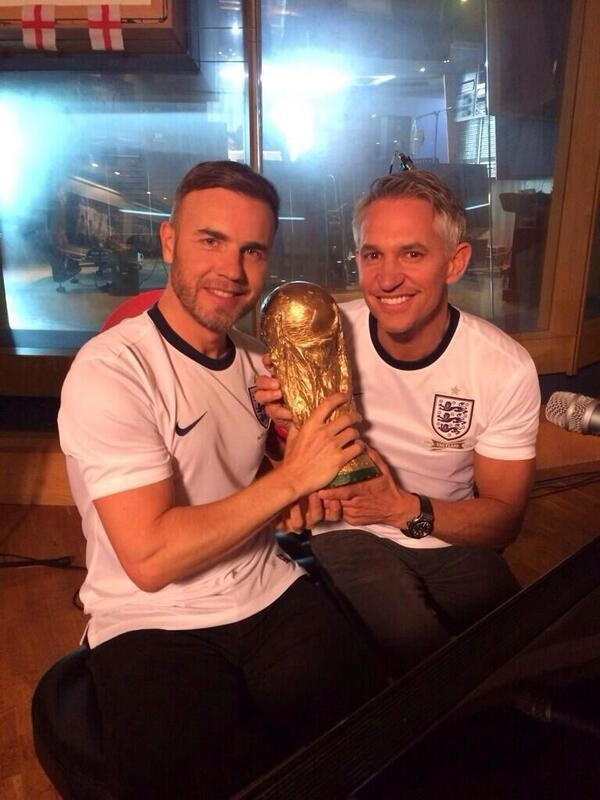 Gary Barlow has teamed up with former England footballers to record the team's official anthem for the World Cup.
Barlow revealed that the football super group including Gary Lineker will be recording Take That's Greatest Day.
Writing On Twitter, Lineker said: "I'm getting together one hell of a group for England's official Fifa World Cup song."
Twelve former players including Glenn Hoddle, David Seaman, Sir Geoff Hurst, Gary Mabbutt, and Michael Owen gathered at Sarm Studios to record the track and shoot the video.
The England football stars were joined by singers Katy B, Mel C, Emma Bunton and Kimberley Walsh.
England didn't have an official anthem in 2010, although an unofficial release featuring James Corden and Dizzee Rascal called Shout managed to top the charts.
The 2006 World Cup song World At Your Feet was released by Embrace and reached number three in the singles chart.
The 1988 track (How Does it Feel To Be) On Top of the World, was the first England single recorded without any input from the players, a collaboration between the Spice Girls, Lightning Seeds and Echo and the Bunnymen.
New Order's 1990 track World in Motion was the British Band's only UK number one. Featuring a rap by John Barnes, it's widley considered one of the best football anthems.
Lineker's last attempt at pop stardom came with the 1986 song Whole World at Our Feet. With a brass band and the lyrics:" We've got the whole world at our feet, there ain't a single team that we can't beat. They'll all be dancing in the street, 'cos we've got the whole world at our feet."
The song didn't even make it to the top 40 reaching number 66. England did however reach the quarter-finals, finally losing 2-1 to Argentina after Maradona famously got a ball in the back of the net with a little help from "the hand of God."
Glen Hoddle has had a taste of chart success after reaching number 12 in 1987 with his duet with Chris Waddle, Diamond Lights.
Other England anthems including Fat Les' Vindaloo and Ant and Dec's We're On The Ball.
The new promo will be unveiled for the first time during the TV broadcast for Sport Relief night on Friday, March 21.