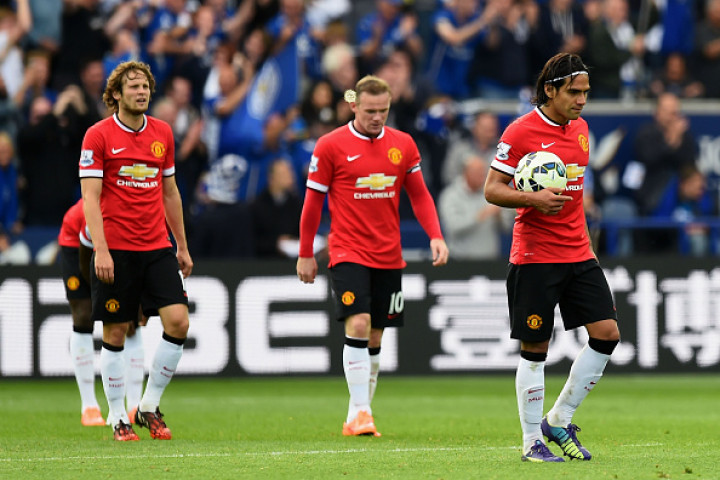 Gary Neville has slammed Manchester United for not being tough enough and admitted his former club were "soft-centred" in their 5-3 defeat against Leicester City.
Louis van Gaal's side were 3-1 up until the 61st minute as Robin van Persie, Angel Di Maria and Ander Herrera were on the score sheet for the visitors. However, the Foxes bounced back to score four more goals in the last half hour to seal a rare victory over United.
However, the former United defender believes the club, having the likes of Van Persie, Di Maria, Wayne Rooney and Radamel Falcao, will improve down the line.
"Going forward they're a lot better than they have been in the last 12-18months and that's a positive," Neville told Sky Sports.
"But in the first half, every ball that got played forward from distance a Leicester player won it, whether it was the first ball or the second ball."
"In the second half, a decision goes against them but make no mistake about it they're soft-centred. There's no doubt Manchester United are soft-centred. They're not tough enough. I thought the midfield three for United and the back four got bullied."
"You saw out there today [in the Manchester City versus Chelsea match] that every time a ball went up to Diego Costa - he was getting battered by (Eliaquim) Mangala - and it was the same at the other end with John Terry and Gary Cahill," he added.
Meanwhile, Neville heaped praise on Leicester for their victory over United and said he believed it was just hard work that helped the Foxes seal crucial three points at King Power Stadium on Sunday.
"Credit to Leicester and (Jamie) Vardy and (Leonardo) Ulloa - they really ran them ragged. It wasn't intricate play or world class football, it was just hard work," the Old Trafford favourite said.
"Grit, hard work, with a bit of quality mixed in with it and United couldn't deal with the physicality of that team.
"Defensive organisation is one thing, but they've got to be more competitive than that and win battles and one-on-one duels, because they were soft-centred in that game," Neville concluded.