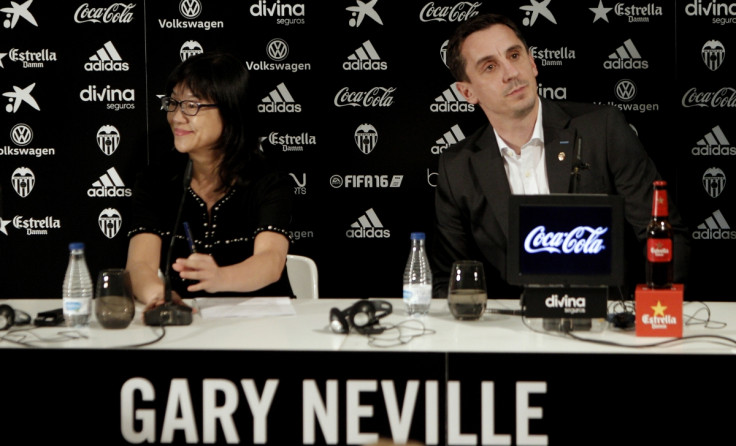 New Valencia manager Gary Neville has confirmed that his brother Phil will remain at the La Liga outfit as assistant coach following his appointment at the Mestalla earlier this week. The younger sibling, recruited as a replacement for Newcastle's Ian Cathro in June, was helping caretaker boss Voro in the aftermath of Nuno's resignation following a 1-0 defeat to Sevilla.
The appointment of England coach and Sky Sports pundit Gary on an initial six-month contract until the end of the season certainly took the football world by surprise. While he is well-respected throughout the game as a result of his highly successful Manchester United career and detailed television analysis, a complete lack of prior managerial experience could be seen as potentially big problem when attempting to meet the expectations of club known for its highly expectant fanbase.
Having a familiar face around to help with the integration process and lean upon for advice should certainly aid him during his first few weeks in the job. The new boss will not be in charge of the forthcoming league clash with Barcelona, instead taking the reins officially on 6 December in the build-up to a crunch Champions League tie at home to Lyon.
After beginning his first press conference in Spain by confirming that Phil will remain in his current role, Gary was quoted as saying by the BBC: "I don't see any problems. If Phil wasn't here, I would want him here. He's hard-working and talented and from my point of view I'm delighted he's part of the coaching set-up. We don't do niceties, we talk about actions. My conversations will Phil have been around information and asking advice. There's no negativity at all.
"Phil speaks very highly about the squad in terms their application and dedication. Obviously confidence has been an issue recently but that happens at all football clubs. He spoke about their enthusiasm and that gives me great enthusiasm to work with the players every day."
The former Old Trafford stalwart, who has already sought advice from Sir Alex Ferguson, covered several topics during his first media appearance as Valencia's fifth manager in three years, confirming that he plans to take Spanish lessons every day and that current U19s coach Miguel Ángel Angulo had already accepted an invitation to join his coaching staff.
In a potential sign of his long-term commitment, he added: "My family will move over here permanently, my girls will finish school in Manchester in two weeks' time and will move to Valencia with my wife. When I was at Manchester United I wanted foreign players to show commitment to the city and immerse themselves in the culture. It's important that I also show that commitment even though for now it's just a six-month contract."