According to International Criminal Court (ICC) Chief Prosecutor Fatou Bensouda, Palestine can file war crime charges against Israel, after it joins the ICC Rome Statute, reported The Jerusalem Post.
Bensouda's statements come as the International Criminal Court faces criticism over having alleged political influences that have prevented it from acting against Israel's war crimes in Gaza.
Bensouda has defended ICC's position, in an op-ed published on Friday (29 August) in The Guardian, by saying that the lack of investigation is due to Palestine's lack of party to the Statute.
"Has the international criminal court avoided opening an investigation into alleged war crimes in Gaza due to political pressure, as suggested in an article published in the Guardian earlier this week? The answer is an unequivocal "no". As prosecutor of the ICC, I reject any suggestion of this in the strongest terms," said Bensouda.
She confirmed, however, that following the UN General Assembly's recognition of Palestine as a non-member state on November 29, 2012, "Palestine could now join the Rome Statute."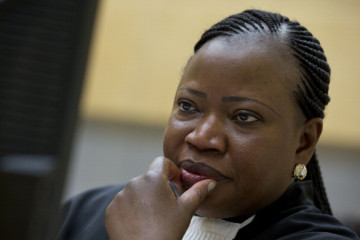 The Jerusalem Post has criticized Bensouda saying: "Bensouda's op-ed, is in itself a highly uncharacteristic public venue for her to articulate her office's usually closely held official positions."
Despite the Palestinian Authority Foreign Affairs Minister, Riad al-Malki, insisting on Palestine's will to file war crime charges against Israel and possibly join the Rome Statute when he met with Bensouda on August 5, her office had said at the time that Palestine had simply not chosen to sign the Statute.
Bensouda's op-ed further clarifies that she has no intention of personally filing indictment against the Israelis as there are only two standard ways for ICC cases to start – either by Palestine joining the ICC's Rome Statute or a UN Security Council referral.
Yet, Bensouda's confirmation on ICC being open to accepting an upcoming Palestine application does not serve as a guarantee for indictment charges against certain Israelis.