Gaza Crisis: Palestinians Request $3.8bn in Aid to Rebuild Enclave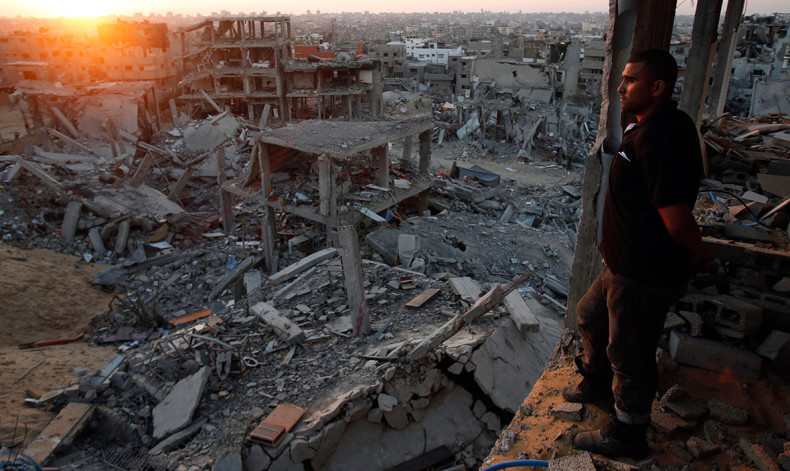 Palestinian Prime Minister Rami Hamdallah has revealed he has requested $3.8bn (£2.3bn) in urgent international aid for the reconstruction of the war-torn Gaza Strip.
At the end of a donor meeting on the sidelines of the United Nations summit in New York, Hamdallah said other nations were to join Saudi Arabia - who have donated $500m to the reconstruction effort - in pledging aid to help the territory recover from a 50-day war with Israel.
Gaza has been left in ruins with some 18,000 homes destroyed and more than 40,000 buildings damaged. Essential infrastructure such as water treatment plants, roads and bridges were extensively damaged during the conflict.
The estimated total cost of rebuilding the territory following the conflict is between $3bn and $7.8bn.
Last week, Israel and Palestine agreed on a UN-brokered deal to import construction material to Gaza. The agreement will apparently bypass Hamas, which has ruled in the occupied Palestinian territory since 2007, in an attempt to stop materials entering the Gaza Strip being diverted from their civilian purpose.
The call for aid comes as Palestinian Authority President Mahmoud Abbas is set to table a resolution to the UN Security Council that will set a three-year deadline for Israel to withdraw its forces from the occupied West Bank, Gaza Strip and East Jerusalem.
The measure is likely to fail in a UN Security Council vote as the United States will veto any measure put forward. Washington has stated that the only way to secure an agreement between the two parties is via direct negotiations and not international bodies.
The plan Abbas is set to outline would see the borders of a future Palestinian state demarcated and East Jerusalem to become the capital of the future state.
"This week I will propose to the United Nations a new timetable for peace talks. The key is to agree on a map to delineate the borders of each country," Abbas said.
The Palestinian leader confirmed that he would seek membership of international bodies if the plan was rejected by the UN Security Council, including the International Criminal Court, which would make Israeli leaders the target of war-crime charges in light of the Gaza conflict and continued West Bank settlement construction.
In the recent seven-week conflict between Israel and the militant faction Hamas, over 2,100 Palestinians - mostly civilians - lost their lives. All but five of the 68 Israeli fatalities were soldiers.