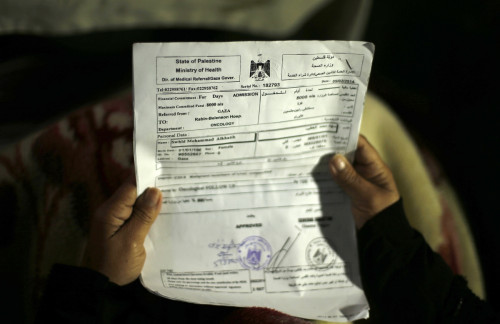 The Israeli army has turned away 50 Palestinian medical patients seeking treatment in the Gaza Strip because their referral letters were marked "State of Palestine", which is not recognised by Israel.
The Palestinian Authority uses State of Palestine on most stationery but not in correspondence with Israeli authorities.
"On Sunday (the Palestinians) filed a range of requests ... on a document that said 'State of Palestine'. On the spot, we returned it to them, saying they should refile the request on appropriate paperwork," Major Guy Inbar, a spokesman for COGAT, the military-run authority that handles entry permits, told Reuters.
He said Israel only handles paperwork marked "Palestinian Authority".
However, a representative of the Palestine health ministry said that he used State of Palestine letterhead for a year without any problem with the Israeli authorities.
The incident came after the president of the European Parliament, Martin Schultz, criticised Israel at the Knesset for its military blockade of the Gaza Strip and for allowing Palestinians less water than Israelis.
"The blockade of the Gaza Strip is your reaction to attacks on the civilian population. But it also does not allow real development and drives people to despair, which in turn is used by extremists," Schulz said.
"Perhaps the blockade creates not more, but less, security."
He also recalled a meeting with young Palestinians who said they dreamed of living in their own country without violence.
"One of the questions from these young men that moved me the most was: How can it be that Israelis are allowed to use 70 litres [of water] per day and Palestinians only 17?"
His speech caused Israeli far-right leader and pro-settler campaigner Naftali Bennett to storm out of the Israeli parliament in protest.