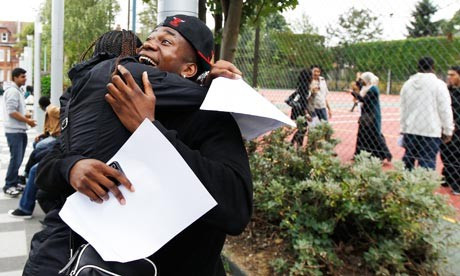 The GCSE results show a fall in the proportion of students who earned A*-C grades, a first in the history of the exams which began in 1988.
Up to 69.4 percent of the entries have received grades A*-C, compared with 69.8 percent in 2011.
The proportion of students with the top A* and A grades has also come down from 23.2 percent to 22.4 percent.
Nearly 658,000 teenagers in England, Wales and Northern Ireland are receiving their GCSE results.
The fall is most visible in some of the key subjects such as English, maths and science.
The proportion of C grades in English literature has fallen by over two percentage points to 76.3 percent and that of English language by 1.5 percentage points to 63.9 percent.
Mathematics has dropped by 0.4 percentage points to 58.4 per cent and C grades in science stream (chemistry, physics and biology) has dipped two percentage points to 60.7 percent.
Joint Council for Qualifications, which releases the data, says that the proportion of students who earned at least a C has dropped 0.4 percentage points to 69.4 percent.
Grade C is considered a "good pass" and a number of state schools in Britain are under huge pressure to score at least a C to escape the threat of closure or takeover.
It requires at least five good passes for 40 percent of the students to avoid closure or takeover by a third party sponsor to run it as independent academic institutions. The results are expected to see a rise in the number of official appeals.
Exam boards have been blamed for increasing the grade ceiling which has resulted in many pupils scoring less marks.
Leaders of head teachers claim that grade rates have been deliberately held down to satisfy the government demand to "contain grade inflation".
"GCSE exams have undoubtedly been more difficult this year, which is all the more cause to celebrate pupils' results. But with the floor targets being raised to 40 per cent, it is going to be immensely challenging for school leaders," Brian Lightman, general secretary of the Association of School and College Leaders told The Telegraph.
"The government needs to be realistic and allow schools the time to move towards these very difficult and demanding standards."