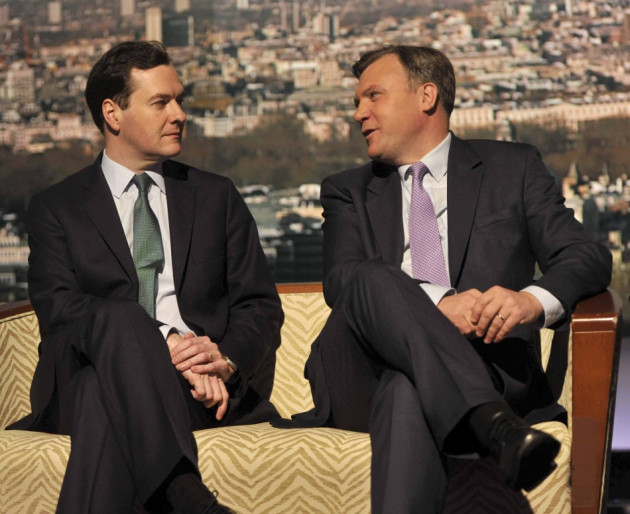 It should never be forgotten that George Osborne has two jobs. He is chancellor of the exchequer, but he is also the Tory party's election strategist, and it was that second role that undoubtedly informed his decision to claim the British economy was "turning a corner".
He may have erected some defensive ramparts around the statement, insisting there were still plenty of risks and that it was early days, but his political message was clear - we got it right and Labour's Ed Balls got it wrong.
He even delivered what may well become a general election slogan, aimed squarely at the shadow chancellor's credibility. "Those in favour of a plan B have lost the argument," he said.
In many ways there was nothing particularly new in the sentiments, which David Cameron and other ministers have been echoing for some time. But timing is all important; the chancellor's speech came on the eve of the political conference season, and was clearly designed to set the backdrop to those rallies.
But there is a danger here. Ever since former Tory chancellor Norman Lamont was roundly criticised for declaring too soon that he could see the "green shoots" of recovery during the 1991 recession, his successors have been careful not to offer such hostages to fortune.
So the potential danger for the current chancellor is that he has come very close to repeating the sentiment, and others will do it for him anyway, and the slightest suggestion that there has been a hiccup along the road to recovery will see today's statement thrown back in his face.
Downing Street was clearly sensitive to the danger with the prime minister's spokesman, when questioned about the speech, saying: "I think this is one where I would urge caution about headline writers and the chancellor's words. I have the chancellor's words here. He is saying that the economy is turning the corner but these are still the early stages of recovery. I would focus on the chancellor's words."
This is the old political game of trying to have it both ways - letting the message go out that the chancellor and his Plan A have been vindicated while, at the same time, insisting that is not exactly what he said.
None the less, the recent spate of good economic statistics have undoubtedly given the government a boost and forced Balls into a change of tack, accepting there are optimistic signs, but attacking the government for failing to boost growth sooner and for continuing to favour the rich against ordinary families.
They are the battle lines already being drawn for the 2015 election.