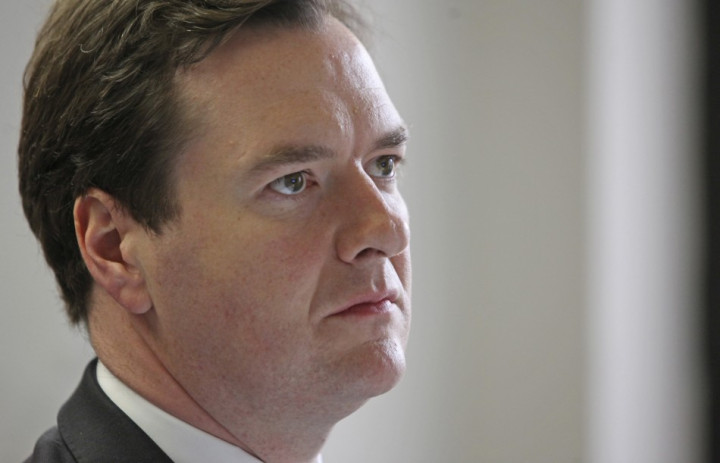 At what was once a black tie evening of self-congratulatory back-slapping and hand-shaking between policymakers and the City of London, the upcoming Mansion House speeches by Chancellor George Osborne and Bank of England Governor Sir Mervyn King will herald a new age for the financial industry and its relationship with the government.
Osborne's speech at the 250-year-old building will launch the government's white paper on banking reform, which has been inspired by recommendations made in the Vickers report, and includes ring-fencing the retail arm from the investment side of the business, to protect consumers from what is labelled "casino banking". But while the Chancellor can score a few points with voters in pledging to cut the City down to size, he can't afford to alienate one of the country's most important industries as Britain fights to extract itself from the first "double-dip" recession in three decades.
"We've got to stop problems here in the City of London from spilling onto our high streets and putting taxpayers' money at risk," the chancellor is expected to tell financiers at the Mansion House event.
The white paper will also shift regulatory powers from the soon-to-be-scrapped Financial Services Authority (FSA), heavily criticised for being too lax on bankers in the run up to the financial crisis in 2008, to the Bank of England.
There are also strict rules on capital reserves for banks, with financial institutions expected to shore up a 17 percent buffer to protect them from unforeseen crisis and prevent the need for yet more taxpayers cash to bailout those about to fail.
George Osborne's political juggle
Osborne faces a difficult political balance.
On the one hand he has to send out a message to the public that, despite accusations of being cosy with bankers from his enemies, he is committed to serious and strict reform of banking regulation to prevent another crisis befalling the country.
On the other hand, he is a capitalist at heart and in mind and knows that Britain's world-leading financial services industry is a lucrative cash cow for the Treasury which will make a significant contribution to the UK's economic recovery from recession.
He will want to use his speech to appease bankers' fears about over-regulation and taxation but still look strong enough to the broader public in conveying an image of a man not afraid to take-on the City.
Mervyn King's mea culpa?
King's Mansion House speech will be his last, as he prepares to leave his seat as head of the UK's central bank in November.
He has already admitted that the Bank should have done more to prevent the financial crisis, though he added the caveat that it lacked the authority to intervene.
His speech is likely to try and distance himself further from any responsibility for creating conditions in which economic crisis could arise, or at least the charge that he stayed silent when he could have spoken out about the risks of banking excesses.
It is also important not to admit the Bank's weakness ahead of reforms that will see them inherit regulatory powers from the FSA.
Hector Sants, the outgoing head of the FSA, has already opined that financial regulation is too much of a burden for the Bank to bear alongside its traditional role of setting monetary policy.
"We could be concerned that the operational task given to the governor as an individual ... is just too great," Hants told the BBC.
Banking lobbyists face public outrage
Banking industry lobbyists are having to not only fight their corner in the face of fresh regulation, but maintain working relationships with the government and regulators, and attempt to restore financiers' reputations in the eyes of the recession-weary public.
Angela King, currently head of the British Banking Association (BBA) but who will soon depart her role, has been using all her powers of diplomacy to warn over the government's planned reforms.
"We understand the government's desire to bring security to depositors, to provide more financial stability and to protect the retail part of banking from the riskier wholesale activities," Knight said, sympathetically.
"However the ring fence as currently proposed has a number of downsides.
"For instance it would make it very difficult for a bank to provide a small or medium-sized business customer with some straightforward services - such as foreign exchange, or protection against volatility of costs in the import of raw materials or exports of their product - if that customer has an account with that bank.
"It would make it difficult if not impossible for a bank to offer to a customer a fixed rate mortgage, if that customer has an account with that bank.
"And the larger the business and the more complicated the customer's needs, the more difficult and costly this all gets."
Anthony Browne, presently Morgan Stanley's head of government relations for Europe, will take over Knight's role in September.
Browne will likely get on well with Osborne as he called for the 50p tax rate to be scrapped - which went in the chancellor's latest Budget - as well as described recent public sector strikes as "morally repugnant".
At a time when lobbying for the banking is so difficult, given the public's antipathy towards bankers and politicians' obligation to keep voters as sweet as possible, a good relationship is vital.
"We need to continue to lead on reform, ensuring the banking sector meets the needs and expectations of our customers and shareholders, and can play its pivotal role in returning the UK to economic growth," said Browne when announcing his new post.
"In a time of change and uncertainty, the BBA has a critically important mission to ensure the banking sector returns to health, remains in Britain, and has the trust of the public and politicians."