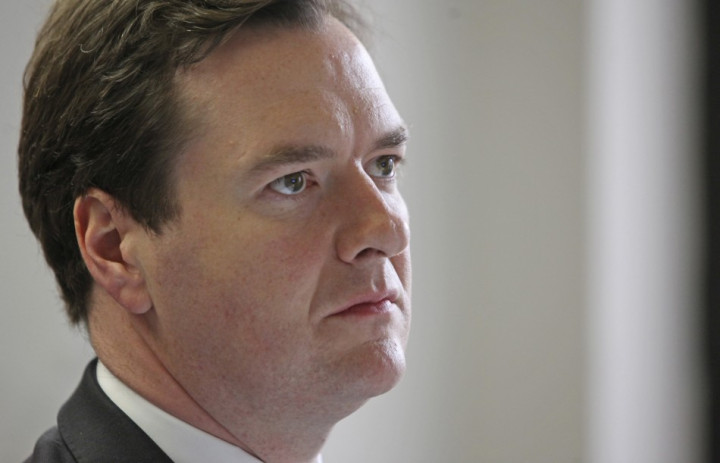 Chancellor George Osborne risks damaging Britain's economic recovery if he does not scrap his current debt target, according to a survey of economists.
With the eurozone crisis weighing heavily on the UK economy and a recession since the end of 2011, Britain has seen its vast debt pile soar past £1tn despite stinging public sector cutbacks as the government tries to bring down the budget deficit.
Growth forecasts for the British economy have been slashed by the likes of the Bank of England and the International Monetary Fund (IMF) because of the worsening global outlook.
Osborne has the target of bringing public debt down as a share of GDP in 2015 and many experts predict he will miss this target. However the chancellor may try to use more austerity as a means of meeting his goal in a desperate attempt to preserve the country's under-threat AAA credit rating.
A Bloomberg survey of economists found that 17 out of 18 polled think it is better to miss the debt target than pursue more public spending cuts at a time when the UK economy is flailing.
"There are no easy options for the government here," said Melanie Baker, chief UK economist at Morgan Stanley, to Bloomberg.
"The least worst option, we think, would be to stick to the existing austerity plans and make no attempt to repair the fiscal slippage."
Thirteen of those surveyed said that further austerity would send more shivers down investors' spines than failing to hit the debt target.
UK debt is currently £1.039tn, representing 66.1 percent of GDP.
Leading industry group the British Chambers of Commerce (BCC) has called on the government to spend more on pushing the "weak and inadequate" economy back to growth.
The government has already pledged a £9.4bn fiscal boost for Britain's rail infrastructure, as well as £1bn to a state-backed investment bank which will support small business lending.
Osborne will make his Autumn statement on 5 December, when he will outline any changes to his current austerity plans in the wake of a worsening world economy.
---
Follow @shanecroucher