Georges St-Pierre has revealed the closest hint with regards to details on his announced fight with middleweight champion Michael Bisping.
The former welterweight champion returned to the UFC after a three-year hiatus as it was quickly announced that he would fight the Briton for his middleweight title.
However, despite the fight being confirmed in early March, there is still yet to be a date or venue for the title bout.
While it was earmarked to take place at UFC 213 on 8 July, rumours suggested that St-Pierre would only be able to compete towards the end of the year.
The delay with the fight is not only frustrating fans and fellow middleweight fighters but Bisping as well, who threatened to give the title shot to number one contender Yoel Romero.
"If [St. Pierre's] not ready, then I guess Yoel Romero gets his title shot," Bisping said, as quoted on MMAFighting. "I'm not afraid of Yoel Romero. If GSP wants to fight, of course – there's a great story there...But I'm not willing to sit around, and he doesn't get to call the shots."
"It's my belt and I'm not some little a*****e waiting in the wings for my title shot. I've got the belt and I want to fight. I'm in my prime. I don't want to sit around for a year. If we don't fight until September or October, that would be a year and I'm not willing to wait a year for Georges St. Pierre."
However, the Canadian was in attendance for a New York Rangers game in Madison Square Garden on Tuesday (2 May) and hinted that the fight could happen at the world's most famous arena.
"Big thanks @NYRangers for inviting me & Erik Owings @TheGarden for the game tonight!" St-Pierre wrote on Twitter. "I could be fighting here in a few months... Can't wait!"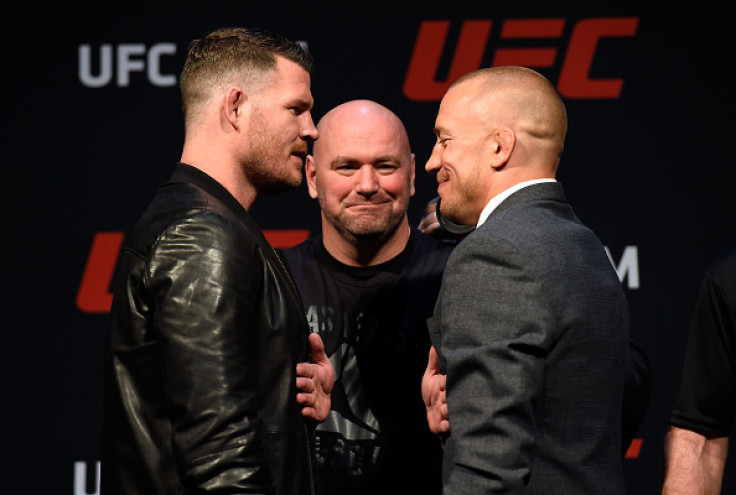 Madison Square Garden hosted UFC 205 in November 2016, the venue's first combat event since the ban on mixed martial arts was lifted and it was reported by MMAFighting's Ariel Helwani that the company were looking to return there in November 2017.
That would mean a potential fight between the two could take place either at UFC 218 or 219 with 220 confirmed for 30 December.