Michael Bisping is perplexed at how he keeps getting criticised for choosing to fight Georges St-Pierre, while Conor McGregor gets a free pass for chasing Floyd Mayweather.
The middleweight champion was expected to defend his title against number one contender Yoel Romero. He, however, opted to face returning welterweight legend Georges St-Pierre.
Bisping received a lot of criticism from fans, the media and fellow fighters alike for chasing a big money payday rather than defending his title against the rightful contenders in the middleweight division.
The Briton, however, believes lightweight champion McGregor does not get the same treatment.
Having not defended his featherweight title for almost a year until he was stripped, McGregor is also yet to defend his lightweight title since winning it in November 2016 as the Irishman currently pursues a boxing fight with Mayweather.
"Whatever I do, I get s**t off everybody," he said on his podcast Believe You Me. "Conor McGregor can do no wrong, he is Jesus reincarnated. He can walk on water, he can do whatever the f**k he wants."
"He can leave the sport of UFC and go chase a boxing match and that's still the best thing ever, holding up two divisions whilst he's at it. But me, Jesus Christ, all I tried to do is get a big payday and I'm the scum of the earth, I'm the devil."
Bisping also responded to the middleweight contenders who have been calling him out and speaking about how his fight with St-Pierre has held up the division. Chris Weidman said the title bout "sucks for the rest of the division" while Luke Rockhold claims the money fight is "taking away from the heart of the sport."
Robert Whittaker also believes he should be next in line for a title shot following his win over Ronaldo "Jacare" Souza and Bisping believes no matter who he fights after "GSP", there will always be complaints.
"The top seven are calling me out," he added. "Whichever one of them, because they're all tough guys, let's be honest, whichever one I pick, the other six are all going to b***h and whine and complain. So you can't win. I'm fighting Georges St-Pierre, f*****g deal with it."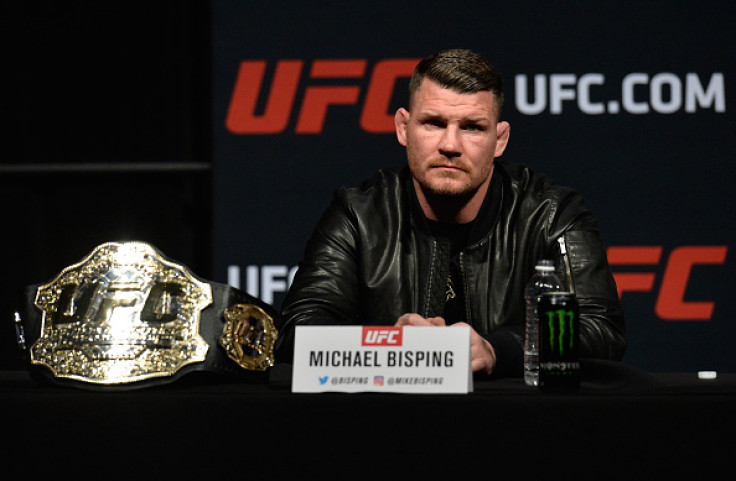 "If you want to fight in the meantime, go ahead. I mean Luke Rockhold is still talking shit, he hasn't put a glove on since I knocked him out in the first round. Yoel [Romero] hasn't fought for a long time. If you're so good, continue to fight. When I didn't have a title shot, I didn't whine and b***h and complain. I just got on with it and I kept fighting."