Georges St-Pierre praises Khabib Nurmagomedov: 'He's probably the best pound-for-pound fighter'
St-Pierre believes Nurmagomedov does not get enough credit for his MMA record.
Georges St-Pierre believes lightweight contender Khabib Nurmagomedov does not get the credit he deserves as one of the most dominant fighters in the UFC today.
The Dagestan native boasts one of the more impressive MMA records right now at 24-0, having yet to lose a single round in the UFC, let alone a fight.
However, "The Eagle" only really started to gain popularity after his win over Michael Johnson at UFC 205 — an event where Nurmagomedov was originally supposed to face Eddie Alvarez for the lightweight championship until Conor McGregor was given the title shot.
St-Pierre thinks Nurmagomedov deserves more credit and sees him as one of the best pound-for-pound fighters in the world.
"I think actually one of the best pound-for-pound in the world, maybe the best pound-for-pound in the world, is Khabib Nurmagomedov," St-Pierre told RT. "I always said it. For me, he's probably the best pound-for-pound."
"Unfortunately, I believe people don't give him enough credit. Maybe because he's not American, he's not someone who talks a lot of trash like Conor McGregor, he's someone who's very respectful, he doesn't make a lot of noise by talking.
"But the same thing, like I said before about me, is that the resume speaks by itself. You know, the guy's undefeated, he beat everybody. I'm just sad that the fight with Ferguson didn't happen, because it would have been an amazing fight."
"GSP" recently returned to the UFC and will move up from welterweight to challenge Michael Bisping for the middleweight title. The Canadian also happens to be an idol of Nurmagomedov's but St-Pierre does not see a fight between the two of them happening.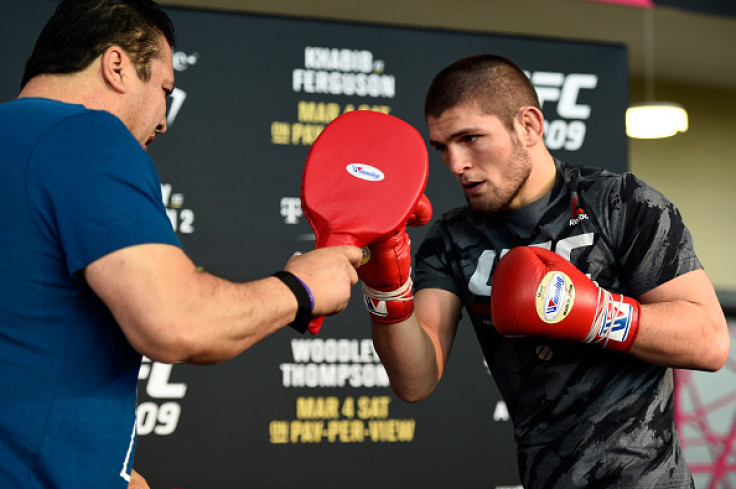 "Look, I really like Khabib," he added. "It would be crazy. I don't know what's going to happen, like I said. There is Conor, there is Ferguson, there is Khabib at 155. Like I said, I don't know that is what I'm going to plan to do."
"If I beat Bisping, I might stay at 185. Or I might go challenge a guy at 170. It depends. The way my body is made I couldn't make 155. It would be a tough cut. Because I walk around at 188 – 188lbs when I wake up in the morning.
"I think Khabib is about the same size as me. Maybe heavier than me. A lot of 155ers are bigger than me. But it would be a tough cut. And I'm not a big fan of cutting weight. But it depends on who's there at the right moment. Maybe it could be done, but I don't know."
© Copyright IBTimes 2023. All rights reserved.