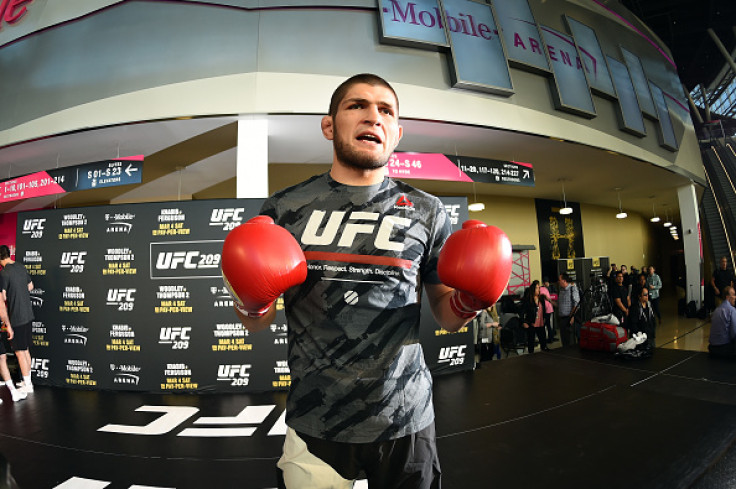 Khabib Nurmagomedov, the undefeated Russian MMA fighter, is considered to be one of the best wrestlers in the Ultimate Fighting Championship (UFC) and touted as a future champion in the lightweight division. He is currently first in line - #1 contender – to face lightweight champion Conor McGregor for the title.
Who is Khabib Nurmagomedov?
Nurmagomedov was born in Dagestan, Russia before he moved to the state capital Makhachkala in his childhood. He began wrestling at an early age under the tutelage of his father Abdulmanap Nurmagomedov, who is a decorated athlete and army veteran.
The 28-year-old graduated with honours from the Financial Academy, but has dedicated his entire life to fighting. The only job he held was training youth and children in wrestling. Before he entered the world of UFC he was the two-time world Sambo champion owing to his proficiency in Judo, something he picked up during his teenage years when he was training in wresting.
The Dagestan-native made his professional MMA debut in 2008 and racked up four wins in one month which included three wins in one night in the Pankration Atrium Cup. He currently holds one of the longest unbeaten streaks in the MMA with 24 wins and no losses.
Nurmagomedov made his bow in the UFC on 12 January 2012 defeating Kamal Shalorus via submission in the third round. The Russian fights in the lightweight division of the most famous MMA promotion in the world and after recording eight straight wins is currently the number one contender for the UFC lightweight title currently held by McGregor.
Khabib Nurmagomedov's career highlights
Nurmagomedov holds one of the longest undefeated streaks in MMA with 24 wins and no losses
He is a two-time Russian Combat Sambo and two-time World Sambo Champion
The Russian holds the record for most takedowns in a single UFC fight – 21 takedowns in 27 attempts
He was voted 2013 Breakthrough Fighter of the Year by Sherdog
Nurmagomedov was named the International Fighter of the Year in 2016 at the World MMA awards
When is Nurmagomedov returning?
Nurmagomedov was scheduled to fight Tony Ferguson in the interim lightweight championship match UFC 209 in March but had to withdraw after being hospitalised during his attempt to cut weight ahead of the fight.
The Russian's father had hinted that his son could retire but Nurmagomedov dismissed talks of retirement and suggested that he could return in September and challenge McGregor for the lightweight title, according to MMA Mania.
Why did Nurmagomedov turn down $5m (£4m)?
The 28-year-old Russian got offered $5m by another MMA promotion in his homeland, but declined the offer as he was committed to honouring his contract with the UFC. His manager made it clear that [via MMA Mania] Khabib is only interested in fighting for the lightweight title currently held by 'The Notorious' as McGregor is popularly known.