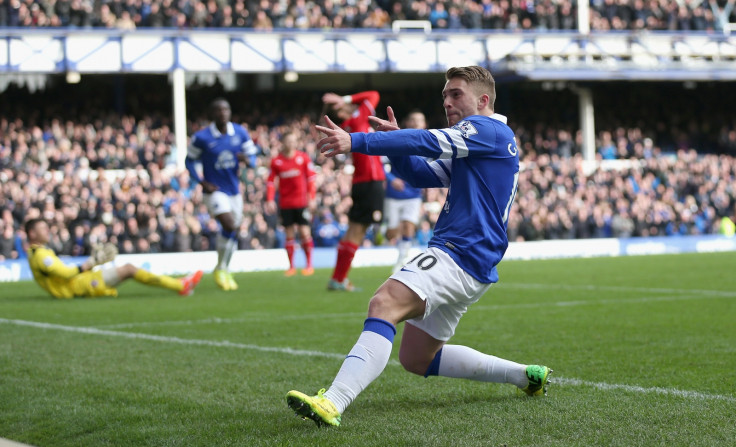 Gerard Deulofeu is looking forward to making a name at Everton after the Under 21 Spanish international made the "tough decision" to leave the Barcelona dream to move to the Premier League. Speaking with IBTimes UK about his long-term plans at Goodison Park, the 21-year-old starlet reveals that he was approached by other Premier League sides, but "Roberto Martinez's trust" made his choice to move to the Toffees very easy.
"I do not know. Maybe it's tough [to say goodbye to the Barcelona dream] but one has to build his career. I had to find another way if that one was not possible, or if perhaps they did not give me the opportunity," Deulofeu said when asked about his decision to move to Goodison Park on permanent basis.
"Both Everton and I wanted me to be here and that's what happened. Roberto gave me a lot of confidence. I had been here already two seasons ago and I had good memories. There were other options in the Premier League but I just wanted to come here."
Barcelona included a buy-back option in his sale to Everton in order to keep him in control ahead of a potential return to the Nou Camp. Deulofeu is aware about that clause but says his only focus is to help Everton to get their targets.
"I'm happy here at Everton. When I decided to come here I came thinking only in my club, which is Everton, and nothing else. What has to happen next will happen next. I feel comfortable here. I do not know whether my game is more suited to the Premier league or La Liga but I am very well here. We have a great team and good targets."
La Masia jewel
The 21-year-old winger was considered one of the biggest jewels to emerge from the prolific La Masia after breaking records both with the Barcelona youth team and the national team ranks - winning two consecutive Under 19 European Championships in 2011 and 2012, and being named the best player in the latest one.
His impressive development continued in the 2012-2013 campaign where despite not being a striker he scored 18 goals for the Barcelona B team in the second division of the Spanish football. Martinez then convinced the Catalans to let his starlet maintain his progress in the Premier League with a promising one season-loan spell at Goodison Park.
Deulofeu looked ready to take the final step to the Nou Camp, but following the arrival of Luis Suarez from Liverpool in the summer of 2014, Luis Enrique instead opted to send him on loan to Sevilla once again.
The Spaniards struggled to make the impact expected at the Europe League, and last summer with Lionel Messi, Neymar, and Suarez blocking his breakthrough into the first team, he didn't think twice when Martinez called him to offer a return to Everton.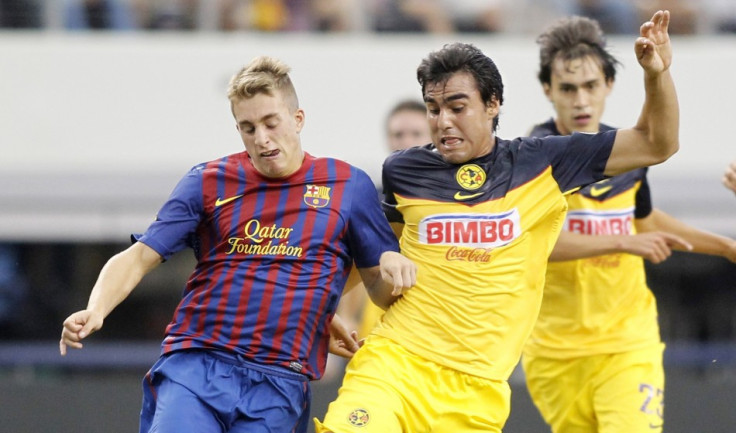 Just weeks after his move to Goodison Park, Barcelona also let Pedro move to Chelsea after the Canary Island winger also forced his move away due to the lack of playing time under Luis Enrique. The Catalans have since been looking into the market to sign a versatile winger to back-up the starting trio.
Deulofeu is convinced his summer decision was the right one: "That's not my problem. I am working with my club and don't look any other things right now."
The Spaniard is little by little becoming an important player for Martinez, having provided five assists in his 10 appearances for the club this season. In the last 2-1 defeat against Arsenal he eventually gifted Ross Barkley the Toffees goal, and was close to scoring the equaliser later in the game.
"We were not really good in the first half, especially in the set-pieces, but reacted well after the two goals. We keep moving. Now we have a Cup game (against Norwich) and we want to win. We have a really good squad. We are aware of that and the target is to reach the Europe place. The team have been in that position in recent years and this squad can do it but we need to improve certain things."