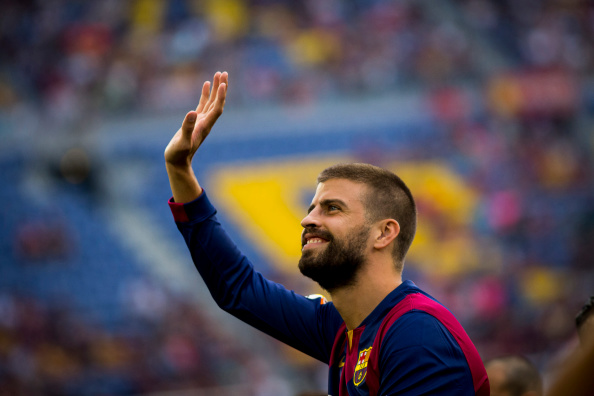 Barcelona centre-back Gerard Pique is under increasing fire at the Camp Nou after being left out of the two latest games – increasing speculations about a possible return to the Premier League.
The former Manchester United defender was not included in Luis Enrique's squad for the La Liga defeat against Celta Vigo on Saturday 1 November, while he was also missing from the starting line-up during the Champions League 2-0 victory over Ajax on Wednesday 5 November.
Even though Pique was a key asset during both Barcelona and Spain's golden era – winning two Champions League titles, the World Cup in 2010 and Euro 2012 – he has been under scrutiny in recent seasons by both his club and his country.
In Spain, some have questioned his commitment to his country, accusing him of wanting the Catalan independence; at Barcelona, Pique has being chosen as one of the main scapegoats for the team defensive issues.
The centre-back now looks to have also fallen out of favour of Barcelona manager Luis Enrique, for commitment and performance reasons.
After a poor game during the 3-1 defeat against Real Madrid in the Clasico, some reports claimed Pique missed the Celta Vigo game as a punishment not just for his drop of levels but also because he was spotted using his mobile phone from the bench during the recent Catalan Super Cup match against Espanyol.
Enrique has refused to confirm the punishment but on Wednesday 5 November, he increased speculation during the Champions League game against Ajax by opting for young Marc Bartra to partner Javier Mascherano at the centre of the defence.
The 27-year-old defender has always insisted he wants to stay at Barcelona but should his exile continue (he has only started five La Liga games this season), he may consider a move away, with both Chelsea and Manchester United said to be monitoring the situation.
He was a United player between 2004 and 2008, and after Rio Ferdinand and Nemanja Vidic's summer departures, Louis van Gaal is looking for a centre-back to lead his defence.
Meanwhile, Jose Mourinho is said to be interested in the Catalan as long-term replacement to John Terry, while Pique's close relationship with Cesc Fabregas could aid a potential move to Stamford Bridge.