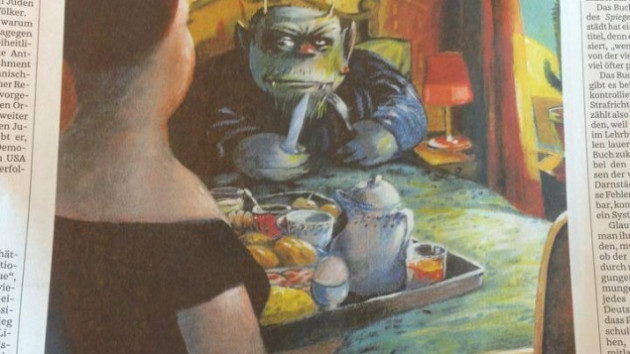 Germany's largest daily broadsheet has been slammed by Jewish organisations for publishing a cartoon depicting Israel as a hungry Moloch lying in bed and being served by a woman.
The Munich-based Süddeutsche Zeitung - a daily which reaches 1.1. million readers a day - ran the cartoon under the caption "Germany is serving. For decades now, Israel has been given weapons, in parts for free. Israel's enemies think it is a ravenous Moloch. Peter Beinart deplores this situation."
Beinart is a liberal American Jewish journalist who has written a book entitled The Crisis of Zionism.
The Simon Wiesenthal Centre said that the depiction of Israel as a ravenous monster "deploys a classic tool of dehumanisation - animalisation".
"Such horrific stereotypes were all too devastatingly deployed by the propaganda machines of both Nazi Germany and the Soviet Union," the associate dean of the centre, Rabbi Abraham Cooper, said.
According to the Talmud, Moloch is the idol of a Canaanite sect that burnt its children to death as a sacrifice. The Simon Wiesenthal Centre has called on the editors of the German paper to apologise to its readers, the Jewish community and the state of Israel.
Dieter Graumann, head of the Central Council of Jews in Germany, said the cartoon was almost of the level of the anti-Semitic Nazi newspaper Der Sturmer.
The Süddeutsche responded on its website under the headline "Is a horned monster anti-Semitic?"
The paper claimed the cartoon had nothing to do with anti-Semitic clichés but admitted that as the picture "led to misunderstandings" it would have been better to choose a different one.