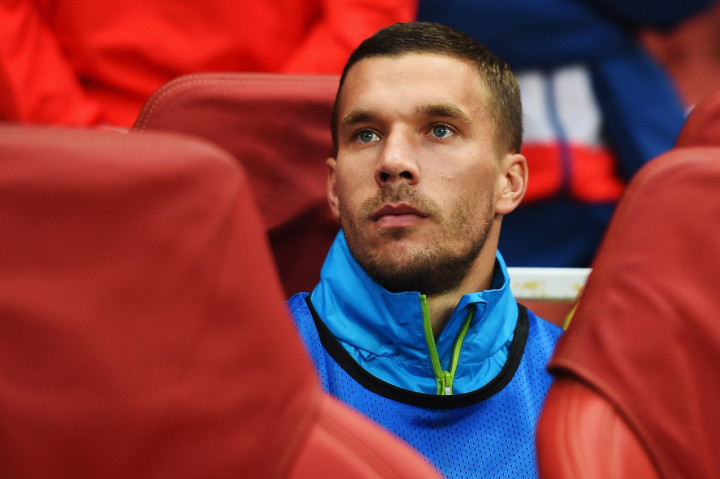 Germany coach Joachim Low has advised Arsenal striker Lukas Podolski to take stock of his situation at the club, as the Gunners star has found playing time very hard to come by this season.
The German international has been used sparingly by the manager and has yet to start a game in the Premier League for the north London club. This has led to the player being frustrated and Podolski has admitted that he will talk to the club during the winter transfer window regarding his situation.
Despite the lack of playing time for his club, the Germany coach has revealed that the former Cologne striker could start when Germany take on Gibraltar in their Euro 2016 qualifier game on Friday.
"It's in my plans that Podolski will play from the start. I'm aware he doesn't play a lot right now for Arsenal. He needs to play competitive games. Sometimes he lacks the physical condition to play the full 90 minutes," Low said, as quoted by Goal.
"He has to think about his situation. I'm still convinced about his abilities, but he needs high intensity," the 54-year-old manager added.
Arsene Wenger has revealed that the World Cup winning striker remains in his plans for the season, despite not playing him on a regular basis. But he did hint that Podolski was in his plans since 'there is no transfer market at the moment' and therefore he might let him leave during the January transfer window.
Meanwhile, with most players away on international duty, Podolski has finally opened up regarding Germany's World Cup win in Brazil earlier this year and he believes that it was team spirit that was the main reason for his country's triumph.
"You don't believe it [when you hold the trophy aloft]. I think you believe it when you stop playing football. I always enjoy looking at the pictures and videos, but when you stand there with the cup, it's something special. It's amazing," Podolski told Arsenal's official site.
"Everyone remembers the game against Brazil and thinks it was easy, but the tournament was not easy. You have to focus in every game."
"We were together for eight weeks but we stuck together as a team, and that was the key reason for winning the World Cup. We were a team and won it as a team," the 29-year-old striker added.