Germany: Deinster SV footballers 'black up' in a show of solidarity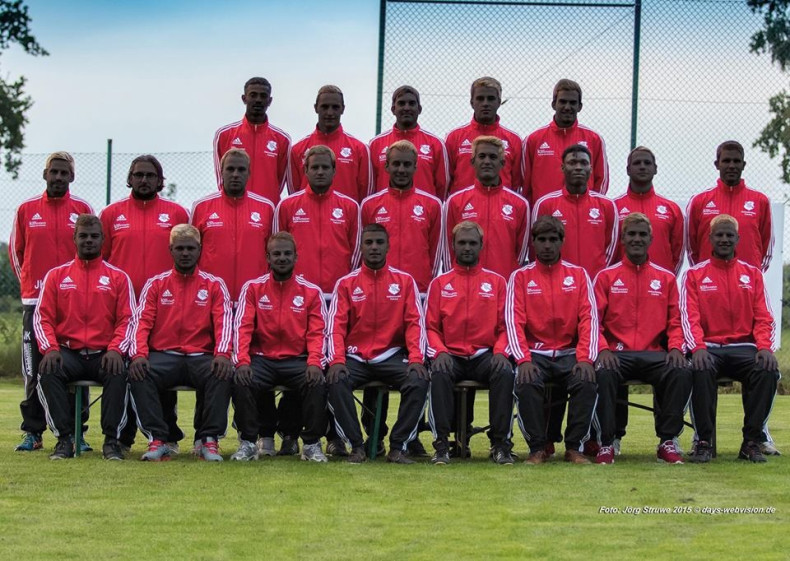 A lower league German football club has "blacked up" a team photo in support of two players who were racially abused. Deinster SV digitally altered their team photo – taken in 2015 – and posted the picture to social media.
Club coach, Soenke Kreibich said that two of their players, Emad and Amar – who are both Sudanese refugees – were targeted at an Easter celebration. The post also said: "Violence against refugees is pathetic. Emad and Amar, you are one of us just like everyone else and we're happy you are with us."
The club said that the pair were subjected to verbal and physical abuse during an Easter celebration in Deinster, located around 15 miles west of Hamburg. Emad was said to have been thrown to the ground and beaten.
In 2013 Italian club Rioveggio made a similar gesture after one of their players was punished for lashing out after being racially abused. Germany has come under increased political and social tension following the arrival of over a million refugees last year.
"We wanted to make a stand, amongst ourselves but also to the public," Kreibich told Jetzt. "It should make it clear that Emad and Amar are an inherent part of our team, and not a minority on whom you can use violence to let off your personal frustration."
The show of support has split opinion on social media, with some saying the act of blacking one's face is also racist. But the post has been liked more than 16,000 times on Facebook with many praising the club's stance.
One Facebook user said: "People who lack self-confidence always look for apparently weaker people to make themselves feel better. That's how many a person becomes a miserable racist. Thank you for this courageous and creative move." Another user wrote: "You guys are fantastic!!! Simply fantastic!!!"
Rural communities in the UK still paint their faces black each year to celebrate Plough Monday – the traditional start of the agricultural year. In the Netherlands, Christmas revellers paint their faces black to depict "Black Pete" who helps St Nicholas spread holiday cheer. But the tradition has become a focal point for debate in the country, with some saying that it is an icon of racism.