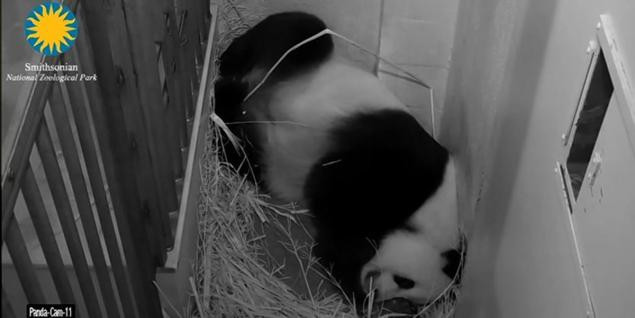 Washington's National Zoo have welcomed two new arrivals as their giant panda gave birth to twins. The babies came four hours apart after female giant panda Mei Xiang went into labour on Saturday afternoon .
Director of the Smithsonian National Zoo Dennis Kelly said: "All of us are thrilled that Mei Xiang has given birth. This is still a very fragile time," he said. "But we know Mei is an excellent mother."
The 17-year-old panda gave birth less than 24 hours after she began having contractions. The giant panda was seen on the zoo's webcams occasionally rolling and fidgeting in her enclosure as she contended with labour pains.
Earlier Zoo spokeswoman Devin Murphy told the Daily News she was bracing herself for the imminent arrival. "She's body licking. She's very restless and she's stayed in her den for all of the morning. Those are all imminent signs she's about to give birth. We're very hopeful that were going to have a healthy cub."
Mei Xiang was artificially inseminated five months ago by a giant panda in China named Hui Hui. An ultrasound taken on Tuesday, revealed a healthy-looking fetus, about four centimetres in size.
The giant panda's first cub Tai Shan was born in 2005 and now lives in China. The giant panda gave birth to a cub that died after six days in 2012 and a stillborn cub in 2013.