Country music singer Dolly Parton said it was an "honour" and a "thrill" to perform at Glastonbury.
The 68-year-old star won over the 100,000 strong crowd as she performed on the famed pyramid stage.
"Thank you so much. It is such an honour and such a thrill to be here at Glastonbury Festival," she said.
"I've been waiting a lifetime for this and of course we want all of you to have the best time."
In her trademark style, the country singer stepped out onto the stage in a sparkly white suit with intricate beading and a low-cut shirt, while she played a sequined guitar matching her outfit.
"I know you're here to see a whole load of artists at the festival and we're just glad that you came to see me," she said.
The crowd sang along as she performed her hits including 9 to 5, Jolene and Blue Smoke.
She also sang a song which she had composed in honour of the festival and the prevalence of mud. The comic lyrics included: "Mud, mud, mud, mud. Up to our bums in all this crud."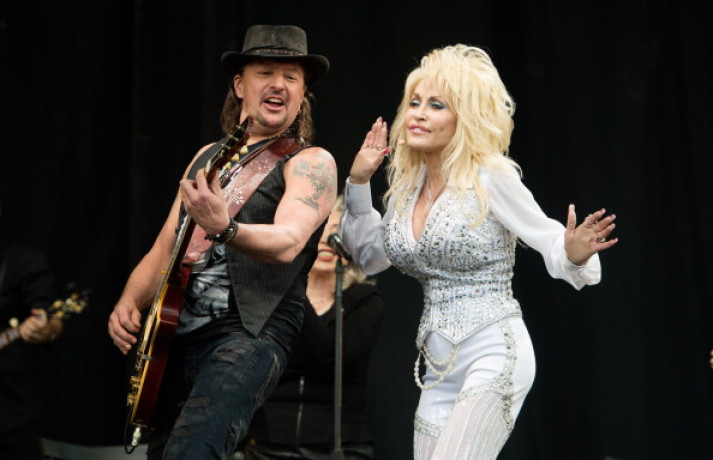 Parton was joined on stage by Bon Jovi guitarist Richie Sambora for a rendition of Lay Your Hands On Me before her finale, self-penned song I Will Always Love You which she dedicated to the audience. The track became a world wide hit when it was recorded by Whitney Houston for The Bodyguard.
While some are questioned the presence of the country singer at the world famous music festival, the support for her was evident by the sea of look-a-likes in the crowd, who emulated her flamboyant style, turning out in large blonde wigs, fringed jackets, cowboy boots in honour of their idol.
Kim Tew, 52, from Corby, Northamptonshire, said: "I think she's fantastic. I've listened to her for a very long time; she was a favourite of my mother's. She looks amazing - she's still got it."
The appearance of the star at Glastonbury sparked a frenzy of messages on Twitter.
"Oh my god she's on fire. Can't believe the crowd she's drawn. GO DOLLY! #Glastonbury #DollyParton," one Twitter use wrote.
Parton also found a famous fan in former Spice Girl Geri Halliwell who posed for a photo with the star.
Posting the picture on Twitter she said: "I love her. X"
Earlier in the day, the talented singer was presented with an award by broadcaster Lauren Laverne and festival organiser Michael Eavis for having sold over 100 million records worldwide, with the pair joking the enormous framed picture was bigger than her.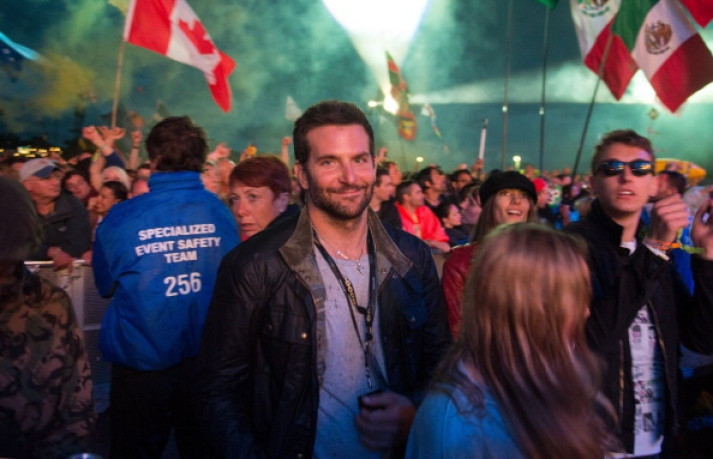 While Parton's arrival was the highlight of day three at Glastonbury. Hollywood star Bradley Cooper had music fans doing a double take as he mingled in with the crowd, on Saturday (28 June).
The 39-year-old actor took in the experience of the festival, dressing the part in a waterproof wax black jacket and a grey T-shirt.
His girlfriend, British model Suki Waterhouse, 22, was however unable to join him in Somerset for the five-day festival.
She wrote on Twitter: '#GLASTONBURY reminiscing. So sad I'm not going this year.. rave on beautiful ravers!!!!!'
Meanwhile, heavy metal band Metallica, who are the first metal act to headline the festival since 1970, said they were "proud and grateful" to be invited to perform at the event.
Performing on the Pyramid stage on Friday (27 June), lead vocalist, James, 50, told the crowd: "Well Glastonbury, Metallica is grateful to be invited to such an event called Glastonbury. We're very proud to be here and to be representing, shall we say, the heavier side of music.
"Me and the boys would like to dedicate this new song to everyone here who's been waiting for someone like us and also to all the heavy metal British bands who have ever dreamed or are still dreaming of playing here."
After performing their electric set, the band asked for the lights to be turned on so they could see 'the Glastonbury family.'
The festival also saw performances by Ed Sheeran, Yoko Ono, Ellie Goulding, Kaiser Chiefs and Lily Allen.