Global consumer confidence continued to rise in the second quarter of 2014 following a stagnant 2013, as the influential North American and European economies come out of recession leading to better job optimism across the globe.
Global consumer confidence increased one index point to 97 in the second quarter of 2014, following a two-point rise at the start of the year, according to the latest Nielsen Global Survey of Consumer Confidence and Spending Intentions. This is the highest score on the index since the first quarter of 2007.
The Nielsen consumer confidence index measures perceptions of local job prospects, personal finances and immediate spending intentions. Consumer confidence levels above and below a baseline of 100 indicate degrees of optimism and pessimism, respectively.
Regionally, North America scored 103 on the index, up three points, while Europe's consumer confidence increased 2 points to 77. In the Asia Pacific region, confidence held steady at 106 – but the highest in the world. Confidence declined in the Latin American and Middle East/Africa regions.
"Buoyant increases across confidence metrics in North America and steady gains within parts of Europe strike a positive note with regard to economic recovery in mature markets," Venkatesh Bala, chief economist at The Cambridge Group, a part of Nielsen, said in the report.
"The key to continued sustained economic expansion, however, will be further strengthening of the job market, which is vital for increased consumer spending."
In the survey, which covers more than 30,000 respondents with internet access in 60 countries, India had the highest consumer confidence index score at 128, surpassing Indonesia's 123.
Portugal reported the lowest consumer confidence score of 48, while Hong Kong and Japan reported the biggest quarterly declines of eight points each.
Britain gains
Among developed nations, consumer confidence rose six points to 51 in Italy and four points to 104 in the US. British consumer confidence gained three points to 90, while France advanced by one point to 60.
Meanwhile, consumer confidence fell by eight points to 73 in Japan, and by three points to 96 in Germany. China's consumer confidence remained flat at a high 111.
Overall, consumer confidence increased in 52% of markets measured by Nielsen, compared to 60% in the first quarter.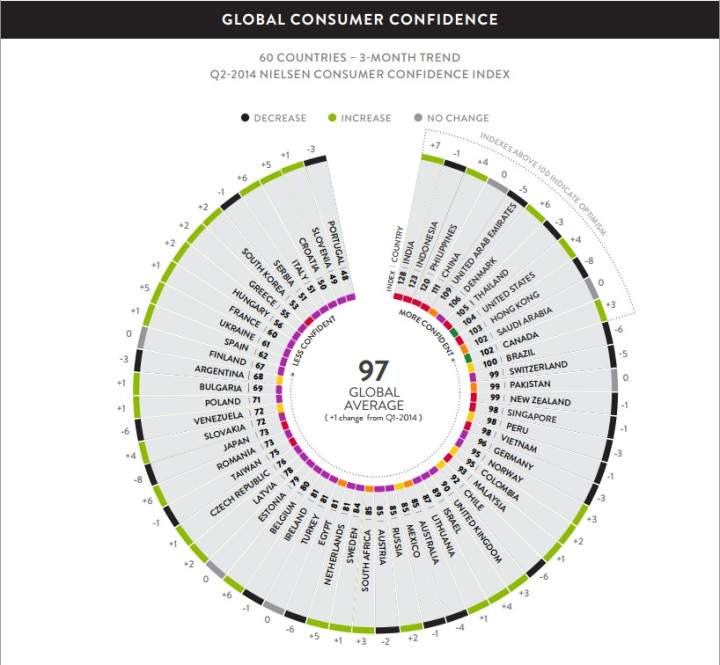 In the survey, 50% of global respondents believed the job market would be good or excellent in the upcoming year, a 1 percentage-point increase from the first quarter. Job market expectations over the next 12 months were buoyant in every region except for Latin America.
About 56% of global respondents viewed their personal finances positively, up from 55% in the past three consecutive quarters.