Scientists moved the Doomsday Clock thirty seconds closer to midnight, citing increasing dangers facing humanity. Several factors contributed to the decision, including the "darkening global security landscape" and President Trump's upheaval of climate change and nuclear weapons policies, according to the Bulletin of Atomic Scientists.
This is the closest to midnight the clock has come since 1953, during the Cold War. The clock stopped at two minutes when the hydrogen bomb was being tested.
Last year the clock hand move forward from five to three minutes.
Rachel Bronson, executive director of the Bulletin of Atomic Scientists, said: "Make no mistake, this has been a difficult year."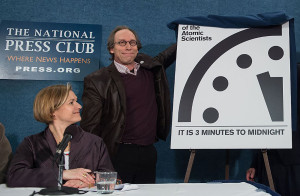 In a statement last month the group said: "Even as the Iran agreement was hammered out, tensions between the United States and Russia rose to levels reminiscent of the worst periods of the Cold War."
They acknowledged the promising step taken by global leaders who signed the Paris climate deal, but warned that the agreement came "towards the end of Earth's warmest year on record, with the increase in global temperature over pre-industrial levels surpassing one degree Celsius."
President Trump's decision to approve the construction of Dakota Access and Keystone Xl oil pipelines was fiercely opposed by environmental activists. Scientists have expressed concern that his ideological agenda poses a serious risk to the planet.
Scientist Lawrence Krauss said: "This is the first time the words and stated policy of one or two people placed in high positions has had such an impact to our perception of existential threat."