Gold prices extended their gains to a third session, hitting a fresh six-month high as China growth concerns and geopolitical tensions in the Ukraine boosted the metal's safe-haven status.
Spot gold rose 0.4% to $1,371.76 an ounce by 07:37 GMT on Thursday, after striking $1,374.85, its highest since 10 September.
Reuters analyst Wang Tao said spot gold faces resistance at $1,375-$1,377, a break above which would open the way towards $1,433.31, the 28 August, 2013 high.
Physical demand has been passive owing to the price rally, with prices in China - the leading bullion consumer - trading at a discount to spot prices, reported the news agency.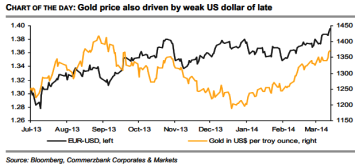 Commerzbank Corporates & Markets said in a note: "Gold is continuing to rise as in recent weeks and has climbed to around $1,375 per troy ounce this morning. Amid concerns about the Chinese economy and the geopolitical tensions between Russia and Ukraine, gold is clearly still in demand as a safe haven.
"The gold price is also finding support from the firm euro, which has inched up to achieve its highest level against the US dollar since October 2011. As in the past weeks, however, the price increase has also been driven by speculation, giving rise to further correction potential."
HSBC analysts said in a note to clients: "Given bullion's technical break, it may be at risk of profit-taking in the near term, barring an escalation of Eastern European tensions. Geopolitical events can have a pronounced, but sometimes short-lived impact on gold."
Earlier in the day, economic data from China showed that factory output, retail sales and growth in investment had all dropped to multi-year lows.
Gold prices jumped 1.3% on 12 March. Bullion has gained some 14% so far this year on the back of global uncertainties.
Money has found its way into gold-backed exchange traded funds in recent weeks, signaling investor confidence following record outflows in 2013.
However, holdings in the SPDR Gold Trust, the world's largest gold-backed exchange-traded fund, dropped 1.50 tonnes to 811.20 tonnes on 12 March - the first decline since 19 February.
The European Union on 12 March agreed on a framework for its first sanctions on Russia since the Cold War.