The euro struck a new two-and-a-half year high against the US dollar bolstered by Chinese growth concerns and tensions in Ukraine.
The euro reached $1.3967 and looked set to test psychological resistance at a $1.40, in a possible sign that the currency was reclaiming its safe-haven status following the eurozone's protracted sovereign debt crisis.
The eurozone's economic recovery seems to be gathering momentum even as the European Central Bank refuses to ease policy further to counter deflation risks.
Traditional safe-havens also strengthened, with the Swiss franc extending gains against the greenback to 0.87095 francs - its strongest since late 2011. The Japanese yen also gained.
China and Ukraine Jitters
Data from China showed industrial output growth was lower than expected for the combined January-February period, with retail sales also weaker than predicted, fuelling worries that growth could slow as Beijing pushes ahead with economic reforms.
Also providing a boost to safe haven assets was the diplomatic standoff between Russia and the West over the Crimean peninsula continued.
"The policy messages and data support the euro and we think that will allow it to continue to push higher from here," Ian Stannard, a London-based strategist at Morgan Stanley told Reuters.
Societe Generale Cross Asset Research said in a note to clients: "EUR/USD has given a break above the multiyear trend line resistance and is evolving within a short term bullish channel. The pair is poised to inch higher towards 1.40/1.4040 with next resistance at 1.4260, 76.4% retracement from 2011 high. For the day, immediate resistance for the pair is seen at 1.3987/1.40."
"Markets are nervous over China and Ukraine, with the latter weighing the most because of the uncertainty of what will happen next and the seeming lack of any coordinated or effective response," Titan Investment Partners trader Darren Sinden told the news agency.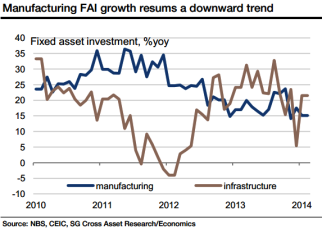 Societe Generale Cross Asset Research said in a separate note: "China's January-February activity data all came in vastly below our below-consensus forecasts, confirming the fast deterioration of China's economic growth entering 2014. Q1 GDP growth falling below 7.5% is now pretty much certain and something barely above 7% looks quite likely.
"We have always viewed the new leaders as less pro-growth, but such a sharp slowdown is probably still more than what they can stomach. Some adjustments to the short-term cyclical stance seem inevitable now, with a 50bp cut in the required reserve ratio [RRR] the most likely and imminent option."
The European Union on 12 March agreed on a framework for its first sanctions on Russia since the Cold War.